The Beach Bum, director Harmony Korine's follow-up to Spring Breakers, opened wide this past weekend. The film stars Matthew McConaughey as a Florida Man of the actor's own myth-making. Moondog is his name, and he's somewhat of a local celebrity in Key West, both because of his cult-famous poetry and his magnetic follow-your-bliss attitude, which makes him a great smoking buddy and fuck buddy alike. In other words: Moondog is quintessential McConaughey, the cinematic evolution of a persona he's played up, played against and played around with since bursting onto the scene as the smooth-talking, beer-swilling Texas Peter Pan, David Wooderson, in Dazed and Confused.
But if The Beach Bum captures McConaughey (or our perception of him) in his purest form, it's only because he's taken a long journey to get there. There have been peaks and valleys, bad rom-coms and solid indies, action comedies and a full-on McConaissance, successful blockbusters like Interstellar and forgettable ones like Free State of Jones. And though it may not have been apparent at the time, it's clear, upon reflection, that McConaughey has been sending us signals about the state of his career all along, consciously or not, through his ever-mutable hair.
It sounds insane, I know. But just follow the hairline.
I mean, timeline.
Dazed and Confused (1993)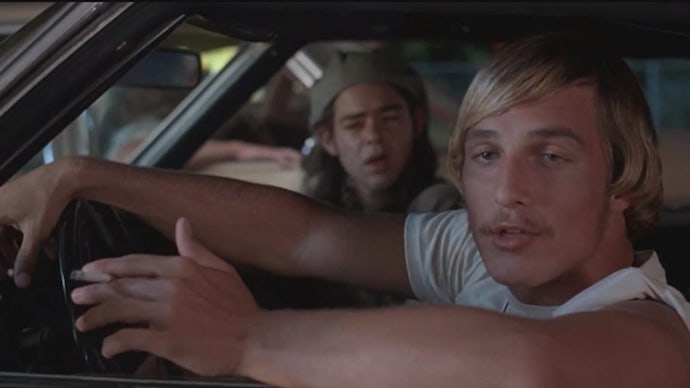 A blond mop of youthful indiscretion. An immature predilection for clownish redheads. A drawl that's drunk on its own power. Clearly, McConaughey's still got a long way to go. But it takes a promising star to make a hairstyle fit for a Lego iconic.
Edtv (1999)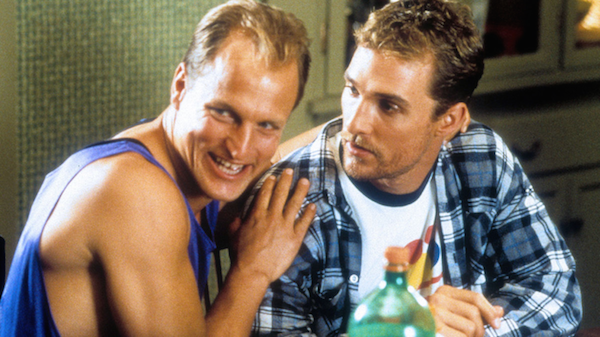 20 years later, Ron Howard's film about a man chosen to have his life broadcast 24/7 feels prescient about the current state of both reality TV and the always-be-postin' nature of Instagram. It's also prescient about the bromance between Woody Harrelson and McConaughey—I mean, just look at how natural, how unforced, their hairstyles are together.
The Rom-Com (H)ombre: The Wedding Planner (2001), How to Lose a Guy in 10 Days (2003), Failure to Launch (2006), Fool's Gold (2008)
Despite making some other movies during this period (including the average gambling drama, Two for the Money, and the even more average sports movie, We Are Marshall), it's safe to say McConaughey's Bush years were defined by a series of big studio romantic comedies—and increasingly superficial hairstyles.
In a post-9/11 world, people clamored to the movies for an escape—to seek refuge in the familiar, and, by extension, McConaughey's recognizable locks.
Take his look in The Wedding Planner.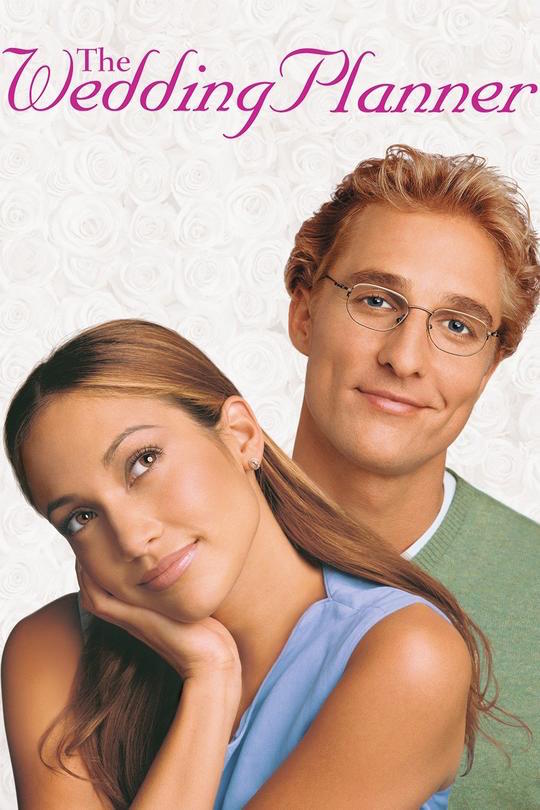 But for the slight glaze over his eyes—did he take an edible before this poster pic?—McConaughey is barely recognizable in this milquetoast 2001 rom-com. This is the sunken place version of McConaughey. His hair is a wispy cry for help.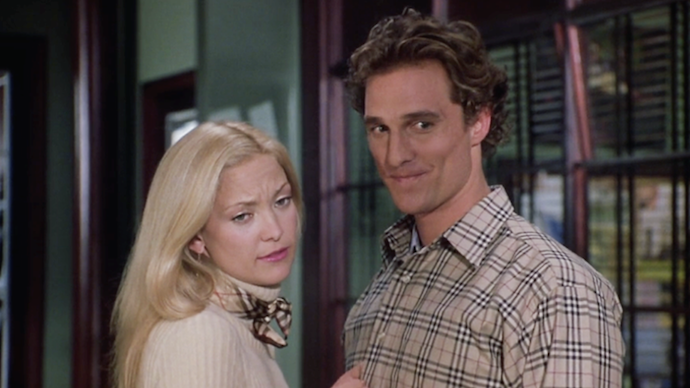 You can tell McConaughey is feeling a little more himself in How to Lose a Guy in 10 Days, a clever and markedly better rom-com than The Wedding Planner. His hair has regained its natural color and textbook thickness. Yes, his character is still working for the man (an advertising company). But he also rides a motorcycle and calls bullshit on his momma.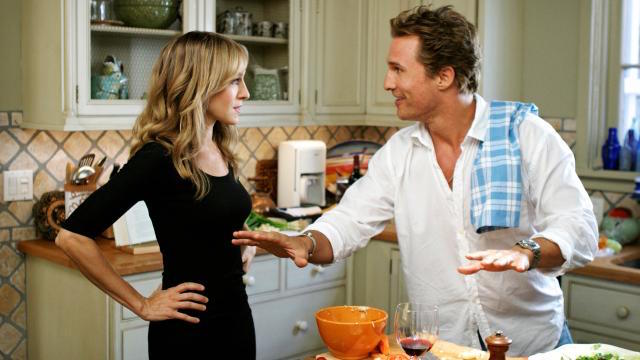 Failure to Launch is bad, but it's a rich meta-text. Despite being a somewhat successful boat salesman(?), 35-year-old Tripp (lol) is still living with his parents (Kathy Bates and Terry Bradshaw), ostensibly because he likes having his laundry done. While the 2019 version of this protagonist would be an incel scouring reddit for evidence of feminist cabal conspiring to keep him from getting laid, Tripp is naturally charming, in great shape and has no problem with the ladies. But like Tripp, McConaughey is inert. At 36, he's grown a little too comfortable playing rom-com leads who don't smoke pot and hardly even have a drawl (unconscionable). His hair says it all; it's at its most artificial. Sure, it looks good, but it also looks like it was glued onto his head.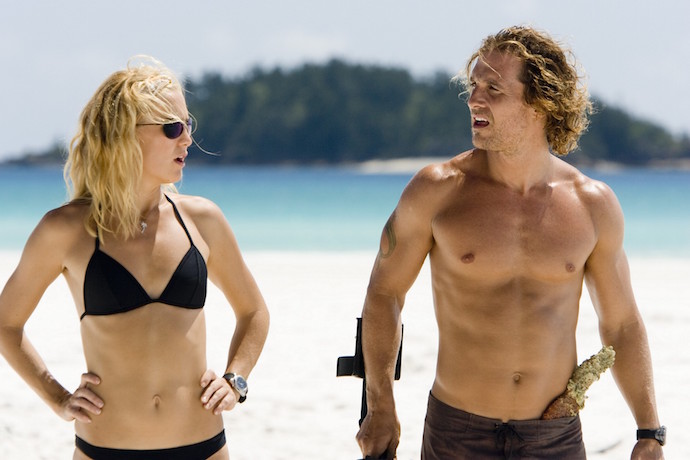 And here's McConaughey's hair at its most superficial, for Fool's Gold, capping off what might be considered the Kate Hudson Lost Years. Although, to be fair, years spent with Kate Hudson can't really be considered lost...
In Defense of Hair: Bernie and The Lincoln Lawyer (2011)
McConaughey played lawyers in two different movies in 2011—Richard Linklater's black true-crime comedy, Bernie, and the slick legal thriller, The Lincoln Lawyer.
Only one foreshadowed McConaughey's synonymousness with a car company. But both signaled the start of a new era for the actor. And both featured very serious fucking hair.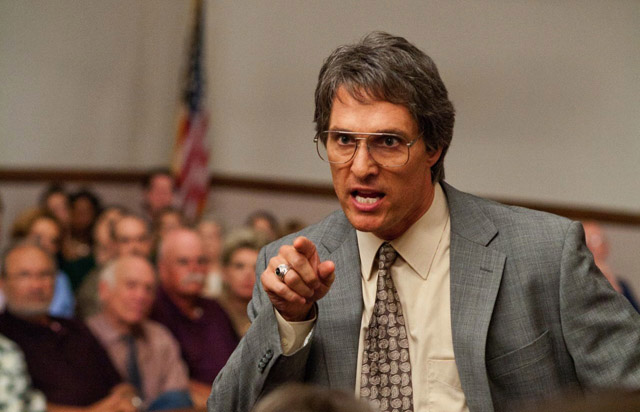 (A special shoutout is owed here to 1996's A Time to Kill, the first major showcase for McConaughey serious acting chops (and more serious hair).)
Method (Hair) Acting: Mud (2012) and Dallas Buyers Club (2013)
Method actors are known to disappear into their roles, blurring the lines between reality and artifice. McConaughey, despite his haunting portrayals of Mud and AIDS-stricken Ron Woodroof (for which he received an Oscar), is not traditionally a method actor. His hair, on the other hand...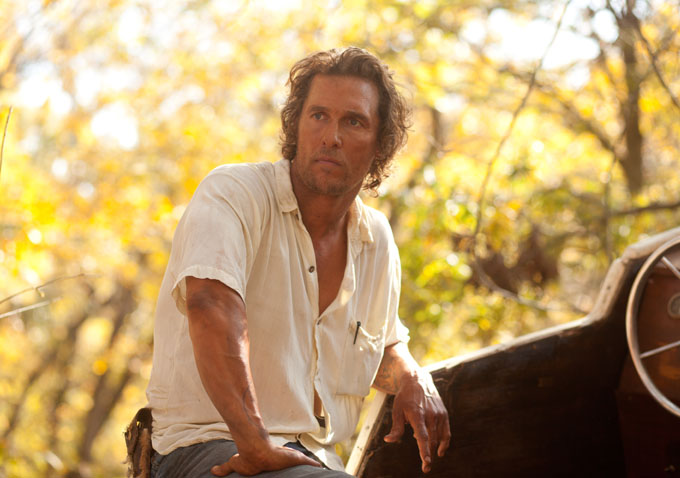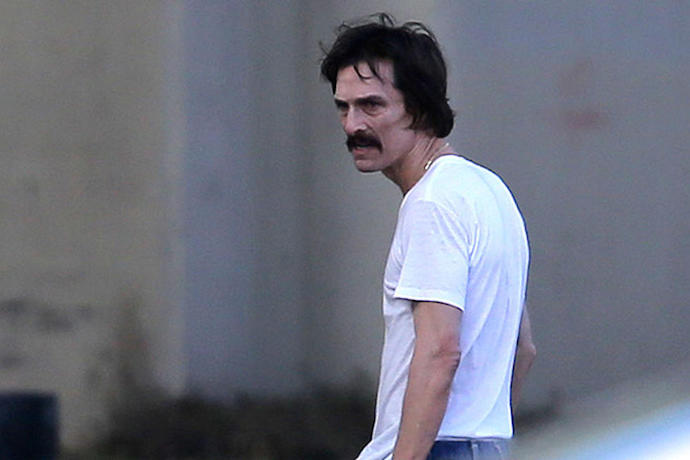 These two serious roles—along with his turn in the surprise hit, Magic Mike (2012), and a scene-stealing performance in The Wolf of Wall Street (2013)—heralded what would become known the world over as...the McConaissance.
True Detective (2014)
The first season of the HBO series quickly became a cultural phenomenon, and thus marked the peak of the McConnaisance. Opposite his old pal Harrelson, this is arguably McConaughey's most complex role to date. His hair—suspended in waves, but always on the brink of dishevelment—perfectly encapsulates Detective Rust Cohle's severity and intense calm, his steely-eyed seriousness and the volatility rippling just beneath the surface. In True Detective, McConaughey's spaced-out stoner wisdom clarifies into a mystical intelligence. It also guarantees him a starring role in enigmatic Lincoln commercials in perpetuity.
Interstellar (2014)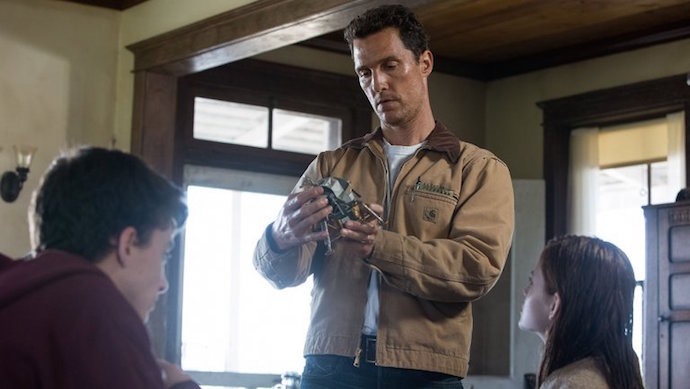 Christopher Nolan's black hole mind-fuck gave McConaughey the highest-grossing film of his career (unless you count the animated movie, Sing, which I do not, because it fails to feature any of his hair). It was the biggest role of the actor's career, but also perhaps his least showy; as such, his hair is at its least remarkable, its most naked, suggesting to audiences a renewed confidence in McConaughey, the man (as opposed to McConaughey, the hair).
Free State of Jones (2016)
We're not including a follicular analysis for this particular film because it appears to have, despite its $50 million budget, been entirely erased from the culture. If anyone has seen Free State of Jones, and would like to comment on McConaughey's hair, please reach out to me at seichner@urbandaddy.com.
White Boy Rick (2017)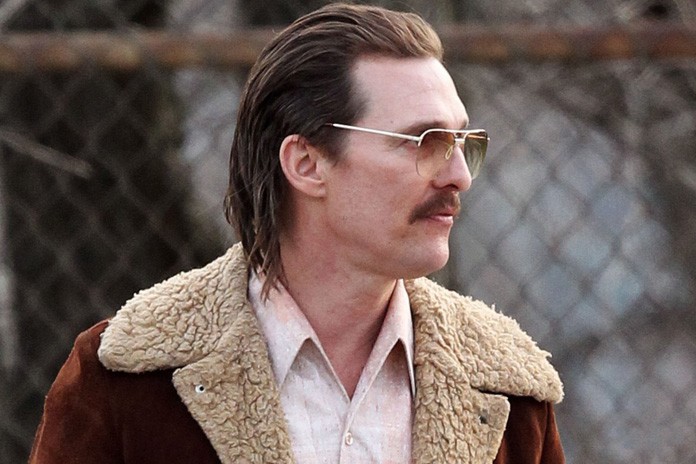 Though there is not a direct correlation between Quality of McConauHair to Quality of McConaughMovie (see: the Method (Hair) Acting section), this is such an egregiously ugly hairdo that the only conclusion one is left with is that McConaughey was trying too hard to recapture some of his McConaissance-related glory.
The Beach Bum (2019)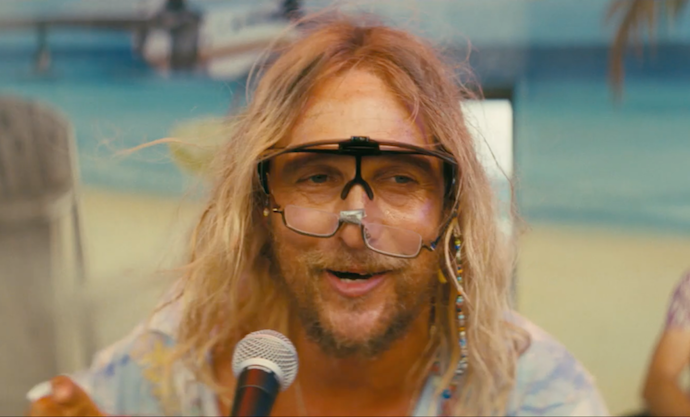 After getting off to a disappointing start this year with Serenity (19% on Rotten Tomatoes; Fool's Gold-style McConauHair), the actor has garnered generally positive reviews for his turn as the zonked-out poet and raconteur, Moondog. In the spiritual sense, it's a return to form—a persona-defining bookend to Danny Wooderson. But hair-wise, we've never seen anything quite like this. There's a feeling of him having come undone, frizzled out, letting himself go to let himself live. It's as if he's been freed of the vanity implicit in all his other 'dos—from the rom-com curls, to the deliberate stylings of the McConaisance—revealing the truest expression of himself in the process.
Either that, or he's just way more stoned than usual.