After an eventful off-season where we saw not one, but two of the largest contracts in MLB history—first for Manny Machado, then for Bryce Harper—baseball is finally in full swing. And while we can certainly appreciate the deliberate pace of our nation's storied pastime, we think we can all agree: baseball movies are much more exciting than regular season baseball games.
Baseball movies are, by nature, shorter, more efficient, more captivating and vastly more Kevin Costner-y (always a terrific thing) than even the most competitive regular season Yankees-Red Sox bout. Yet it is the games, not the movies, that are televised at a blistering rate, and the players, not our beloved story characters, who are shown rocketing long pop-ups on SportsCenter every night (we're looking at you Aaron Judge).
All of which got us thinking: what if we could put together our own organization from the Hollywood players and coaches we know and love? What would the greatest baseball movie All-Star Team ever assembled look like?
Well, let's build one and find out...
But first, some ground rules:
The player must be fictional. Otherwise, what are we even doing here?
Each player's talent will be evaluated relevant to their particular age, setting and storyline. Nobody watches an 11-year old dominate the Little League World Series only to say something like: "Well yeah, but he could never strike out Mike Trout." This is just all hypothetical fun.
And that's it. In the words of the beloved Hamilton Porter...
Starting Pitcher - Henry Rowengartner, Rookie of the Year
A thing you come to realize putting together an imaginary team of cinematic baseball players: there is an extraordinarily deep and talented pool of pitchers available. That's no coincidence—pitchers, with their outsized personalities and role on the team, often make for more dynamic characters—but as a result, the decision as to who would get the starting nod was a difficult one.
I'm rolling the dice with Rowengartner, however, because of his ceiling. There's simply nobody on earth touching his fastball when it's on. And if for whatever reason he's off—say, if his arm spontaneously loses its mysterious ability to throw triple-digit gas—we can go straight to a stacked bullpen of trusty alternatives (more on that later).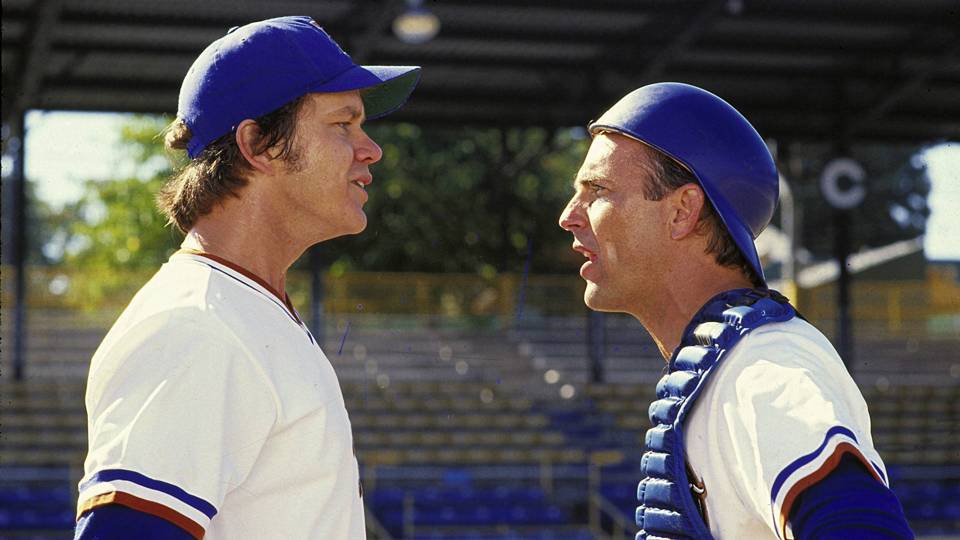 Catcher - Crash Davis, Bull Durham
To aforementioned Porter (The Sandlot): I am so, so sorry. But enlisting a seasoned veteran at catcher is especially crucial when you've got another 12-year old boner starting on the hump. If Crash can shape and mold a guy named Ebby Calvin "Nuke" LaLoosh into a major-league pitcher, I feel more than confident throwing him in a battery with Rowengartner.
Plus: it's always good to have a guy on your team capable of delivering polemics on the novels of Susan Sontag and baptized by the unofficial Eros of baseball. He's an intellectual leader but also a spiritual guide, both of which are key.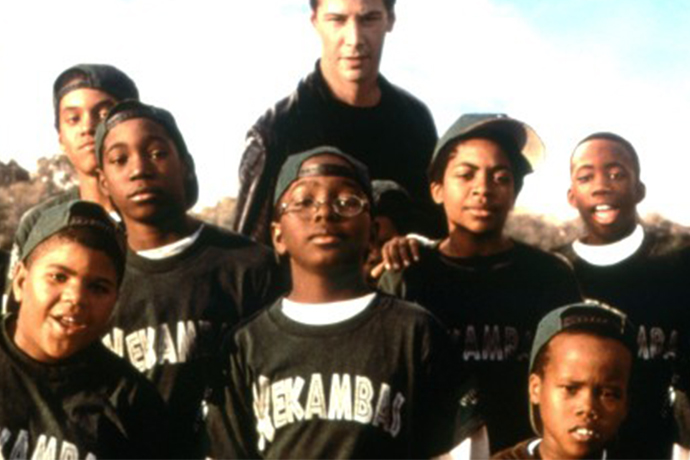 1B - Kofi Evans, Hardball
Despite his pitfalls (he quits the team not 20 minutes into the movie before staging a graceful comeback) Kofi Evans is by far the most versatile, athletic position player the Kekambas have to offer. Which allows us to slide him over to first to make room for a couple of more-than-qualified middle infielders (because I am the Joe Maddon of subjectively drawing up meaningless baseball lineups). You can also currently purchase his Kekambas away jersey online for $40, which I recommend you go do immediately.
2B - Marla Hooch, A League of Their Own
Marla Hooch's first round of switch-hitting BP was so impressive that someone felt the need to upload a YouTube video of each of her frozen ropes spliced with other various movie scenes of people being hit in the head by flying objects. Think about that.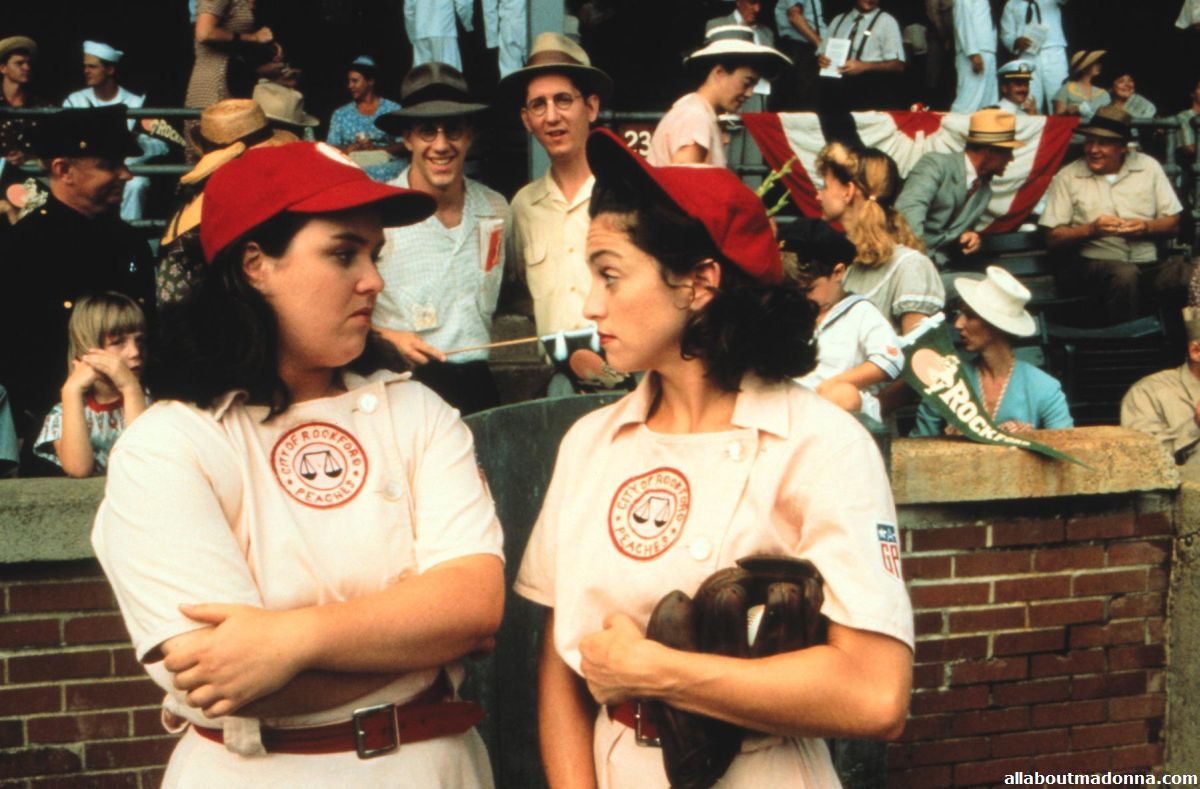 3B - Doris Murphy, A League of Their Own
It's a strange feeling loading this lineup with A League of Their Own stars without a trace of Dottie Hinson behind the plate. But again, some players simply fall victim to a case of a stacked position. That, and Rosie O'Donnell's free-wheeling Doris could 100% mash with a bat as thick as her New York accent.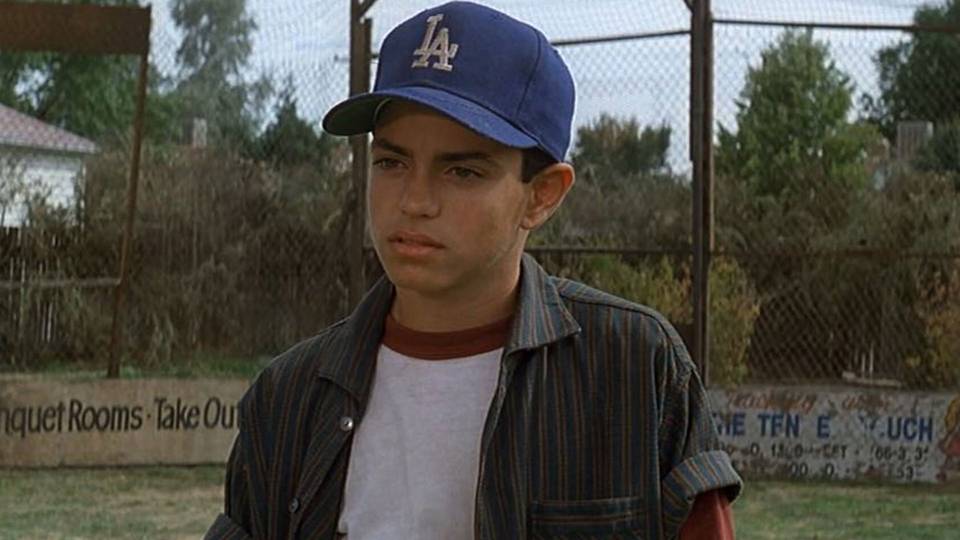 SS - Benny "The Jet" Rodriguez, The Sandlot
A few things Benny Rodriguez was able to accomplish within the span of a 101 minute film:
Assemble a full nine-man baseball roster.
Teach Smalls how to throw a baseball within a single paper route analogy.
Hit a baseball directly into Smalls's glove from several hundred feet away.
Instruct Smalls to light his terrible dad-hat on fire.
Hit the cover off of a baseball.
Ambiguously play any position necessary in the field.
Summon the ghost of Babe Ruth from his closet.
Steal the game winning run in a Major League Baseball game for the Los Angeles Dodgers.
Benny "The Jet" is to the cinematic baseball universe what Derek Jeter is to the city of New York—just minus all the sex baskets. I'm popping him into the heart of our team's infield for this very reason.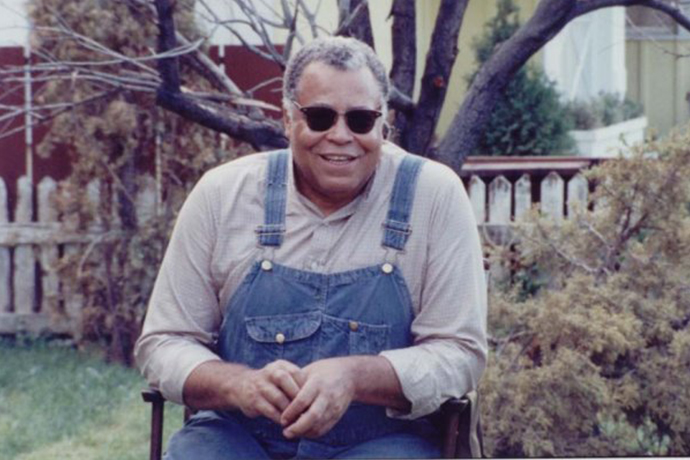 LF - Thelonius Mertle, The Sandlot
While Benny remains the most accomplished player from The Sandlot, it would be a pitiful nuisance not to recognize Mr. Mertle as the most decorated. Mertle shared the field with the movie's central mythical figure—even touting himself the superior hitter to one "George" Ruth until a high and tight fastball left him blind and out of a job.
Nevertheless, when healthy, Mertle's extra sauce and savviness exudes some encouraging Barry Bonds vibes out in left. Long live James Earl Jones in baseball movies.
CF - Willie Mays Hayes*, Major League
With the exception of Rodriguez, Evans and (maybe) Mertle, you'll notice our current squad is a little lacking in speed. To shore up our defense and baserunning, we're going with Hayes—a man who leapt out of bed and sprinted a 40 in his PJs faster than two of his teammates—in centerfield and potentially at the leadoff spot. It's also worth mentioning that by the end of Major League, Hayes is arguably the most valuable five-tool player on the Indians roster.
*The Wesley Snipes version. Because in what universe did you think I was going to leave Wesley Snipes out of this?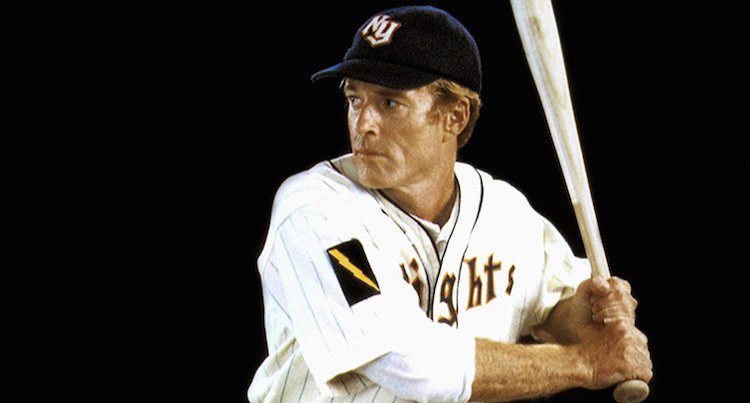 RF - Roy Hobbs, The Natural
Roy Hobbs, played by the legendary Robert Redford, escapes death twice—once at the hands of deranged serial killer, another at the hands of a pastry—in a movie many call the greatest sports film of all time (it's neck and neck with Bull Durham in my book).
Anyone who can strike out the Babe at 19 and rake a light-blasting homer with his gut bleeding at age 35 seems like a fine candidate to round out a roster of talented greenhorns.
Manager - Jimmy Dugan, A League of Their Own
There's really an astounding group of cinematic managers to choose from here, all of whom I'm certain could handle the ramshackle collection of talent above. But at the end of the day, give me the coach who's willing to call the home plate umpire a "penis with a little hat on" before pleading his case for a common misunderstanding. That's the Tom Hanks I want running a ball club.
Coaching Staff - George Knox and Roger Bomman, Angels In the Outfield
The actual roster of players in Angels In the Outfield is quite lousy and unreliable. That's why they needed actual, tangible help from flying invisible angels. Roger and Coach Knox, on the other hand… well, let's just say I am fully on board with this absolute sell-job pulled on soon-to-be-diseased pitcher Mel Clark.
Bullpen
Billy Chapel, For the Love of the Game
I'm having a Costnergasm© thinking about Billy Chapel throwing to Crash Davis for nine innings.
Kenny DeNunez, The Sandlot
Crafty, excellent heater, lived up to the Sandlot hype by making it to the minors.
Rick "Wild Thing" Vaughn, Major League
Flared out harder than the cocaine smoking sex addict who played him, but man, Rick could throw some steam.
"Nuke" LaLoosh, Bull Durham
Sure, why not.
A slightly different version of this article ran on July 25, 2018.