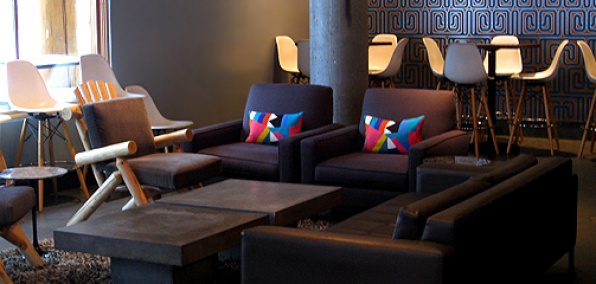 If you've passed through LA in the last few years—or spent enough time Googling the terms Tuesday night and Lohan—you've probably caught wind of the depraved sin palace known as Hyde.

But good luck leaving your skis with the valet.

Welcome to Hyde Lounge Mammoth, the new slopeside outpost of one of Los Angeles's most notorious lounges, open now.

In short, it's a champagne-happy, ski-valet-equipped (more on that in a minute) lounge with a healthy dose of sports bar thrown in to keep things from getting too…LA. So you'll find the same mood-lit nooks and impressive small plates you got on the coast, but with raw-wood chalet chairs instead of leather banquettes. As for those valets, they're here to tend to your board or skis, not your car, so you can come in directly from the slopes to pick up some non-seasonal eggnog. (We won't tell.)

Once you've found a mood-lit nook of your own, we suggest warming up with a few Berkshire pork Pigs in a Blanket and some Bacon-Wrapped Dates. Then head towards the book-covered side table in the corner for a little privacy...and a chance to catch up on your reading.

Afterwards, you can take your drink to the outdoor terrace—in a stroke of genius, it's heated through the floor—then grab your skis (and maybe one last drink) and head across the street for one last ride on the ski lift.

A practice known as "après-après-ski."