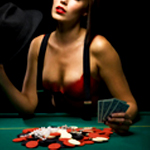 STAKE HOUSE
High-Stakes Poker with an Eastwood
Should you find yourself at Black Diamond's high-stakes poker tournament, keep these numbers in mind...
2,000: Dollars it takes to buy in.
1: Players who are Clint Eastwood's son.
$23 million: Lifetime earnings of your host, "The Magician."
13,983,816 to 1: Odds you'll beat "The Magician." Or win the lottery.