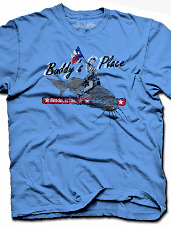 Dive bars.
The only thing better than the atmosphere and the price of the beers...is the T-shirts that some of them sell.
But since you can't get to all of them (as hard as you try), you need a way to expand your breadth of knowledge on the topic—preferably in shirt form...
Introducing the
Dive Bar Shirt Club,
a new T-shirt delivery service for your inner barfly, shipping you one quality tee from the best dive bars in the country you may or may not know exist.
It's quite simple: you sign up for a membership, note your size and once a month you'll receive a brand-new, professionally screen-printed T-shirt hailing from the chosen "dive of the month." Along with the shirt, you'll receive a unique bit of information about each bar (history, interior details, whether or not you're allowed to carve your name in the tables with a knife), and once that month is over, the shirt is retired—moving right on to the next seedy swill hole.
Should you notice that a particular dive bar that you frequent (or have been banned from) isn't on their radar, you can alert them to such a glaring oversight and give your favorite go-to its due and proper.
Which might be enough to get you off the bar's banned list...