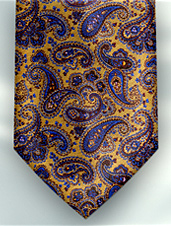 Your tie can say a lot about you.
Depending on the style, it can lead people to believe that you are: a way-too-devoted
Apprentice
fan, a way-too-devoted
South
Park
fan or a way-too-devoted fan of 1996.
So we're pleased to introduce
RVR Neckwear
, the NYC-based tie brand more befitting your inner Gordon Gekko, now available through Alan Rouleau in the Back Bay.
Designed by a former Wall Street banker who wanted to replicate the "lucky tie" he used to great effect in and out of the office, this could be the tie you're wearing when you get that next big "Yes" you've been waiting for. (Or that next big "Okay, fine, whatever, just do it" you've been waiting for.)
The quality is top-notch—each tie is individually hand-stitched and tailored in Italy using nothing but heavyweight Italian silk (think of it as the Monica Bellucci of fabrics).
And you probably won't have to worry about someone else sporting the same look—the designs are made in small batches, there are more than 20 patterns to choose from and they're only available at the flagship Manhattan store, online and now in Boston.
They've even got a tie in their Master Collection made with 24K gold yarn.
Perfect for your office's Precious Metal Wednesdays.