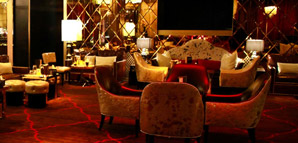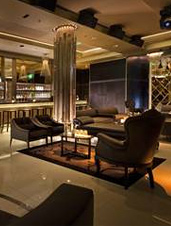 As the town's countless men in white jumpsuits and aviators will remind you, today marks Elvis's 75th birthday. We can't say what he'd be up to if he were still around—if, in fact, he isn't still around—but he'd probably still be in Vegas, maybe running a nightclub of his own.
Call us crazy, but we're guessing it would have had a life-size horse-shaped lamp in it.
Here to realize that impossible dream:
Gold Lounge
, Aria's bottle-service shrine to the King in all his hard-living grandeur, open now in CityCenter.
Imagine all the unhinged opulence of Mr. Presley's Vegas years distilled into a single gilded palace of sin—complete with gold-mirrored walls, that soon-to-be-notorious horse lamp and countless monkey faces hidden throughout the decor as a reference to the King's dearly departed, booze-guzzling pet chimp. (No, really.)
The spot's planted just across the hall from Cirque du Soleil's new Elvis-themed show, so you can pick up a little acrobatic inspiration—hint: it involves spandex and stilts—before heading to the marble dance floor for a rendition of "Viva Las Vegas." (You might want to stretch first.)
After that, you can settle into a banquette as black as Elvis's coif and sip foamy cocktails like the
24k
, a King-worthy concoction with gold flakes and egg whites. For further indulgence—by which we mean Elvis-style overindulgence—turn to the snack menu, stocked with Presley favorites like jelly doughnuts, mac and cheese, and the infamous peanut-butter-and-banana sandwich.
We give it a week before the impersonators show up.