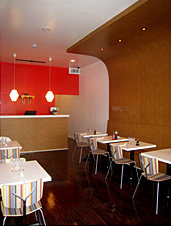 There's no easy way to say this, so we'll just be blunt. It's really, truly, apocalyptically cold out there.
Now for something Tom Skilling's not going to tell you: you're about to encounter your own personal heat wave.
Introducing
Pho & I
, your new spot for hunkering down with steaming bowls of Vietnamese soup, spicy plates of curry and fiery Thai chicken wings, open now.
Let the toe-thawing begin.
On a quiet stretch of Broadway, you'll enter a streamlined space with candles on the table, a traditional altar above the cash register (don't worry—your cash sacrifice will be rather small) and mod pinstriped chairs at the tables—imagine if Paul Smith decided to leave the dull world of British fashion for the fast-paced excitement of noodle shops.
When April rolls around, explore the sweeter aspects of the menu—like grilled shrimp impaled on a stick of sugarcane. But for right now, focus on getting the feeling back in your fingers: a warm bowl of hot-and-sour tom yum soup, generous servings of pho bo (Vietnamese noodle soup teeming with beef) or chicken mango curry should do the trick.
Pho & I is strictly BYOB, so bring whatever winter warmer you have lying around your pad. Or, since they deliver, you could just stay at home.
You'd hate for your warmer to catch cold.