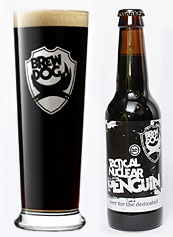 It's three days before Christmas. You're in a rush.
So we're going to come right out and say it: We've unearthed the strongest beer in the world. Let that settle in…
Introducing
BrewDog Tactical Nuclear Penguin
, a Scottish concoction that combines beer and sheer strength, available online now and in U.S. stores this March.
That's right: This is the most powerful beer anyone has ever put on the market. It packs a 32 percent alcohol-by-volume punch, which is roughly six times your average domestic—and more than enough to impress everyone at your next house party/bar mitzvah/airport security line.  
The method behind this madness: aging it in not one but two Scotch casks. (It's by no means necessary that you actually know what that means.) As for what it tastes like, well, it tastes like Guinness, chocolate and cloves. So three of the four essential food groups.
Now, we should warn you: Due to the mighty nature of this hooch, there's a very limited quantity. So if you don't get some on this go around, it will come back stronger then ever in March. For now, you'll have to pay a hefty shipping fee to import it from Scotland. Then again, no price is too steep when it comes to the world's most potent beer.
You always wanted to be in the import/export game.