Unless you're cooking for yourself, the typical at-home dining experience involves pizza or Thai food that's been sitting in the back of a car for 30 minutes before arrival.
Still delicious, and convenient, but lacking the atmosphere and visuals associated with fine dining.
Moveable Feast is changing the experience by partnering with top chefs to supply you with dinner and snacks in the comfort of your own home. So now, you can eat Michelin quality meals on your couch.
The idea was formed during the pandemic, and the company was created by John Stubbs, owner of Jewel of the South in New Orleans, Jon Sybert, owner and chef of Tail Up Goat and Revelers Hour in Washington D.C., and Ricardo Reyes, a former marketing and communications executive. The new service gives top restaurants across the country an opportunity to showcase their talents to guests, without said guests having to be physically present at the restaurant.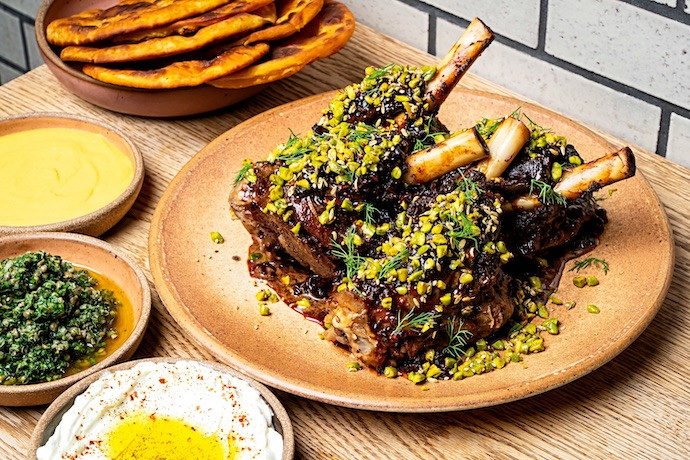 The service kicks off in January, but slots are available to reserve now. Sign up, and each month you'll receive a box from a Moveable Feast partner that contains snacks, a family-style feast and dessert. Meals are designed to feed four, eight or 12 people, and everything has already been cooked and refrigerated. All you have to do is follow the simple video instructions on heating and plating the food.
First up is a meal from chef Amanda Cohen of Michelin-starred Dirt Candy in New York, whose menu features a smorgasbord of good times, including seaweed caviar sandwiches, cauliflower schnitzel served with creamy grits, a chopped salad, warm pickled cabbage, gigante beans tossed in zhoug vinaigrette, and popcorn pudding with caramel popcorn and whipped cream. There are also meals from award-winning restaurant and bar, Jewel of the South in New Orleans, and Ernest, which is currently one of the hottest tables in San Francisco.
Future meals will come from chef partners at Albi in Washington D.C., Birdie G's in Los Angeles, Nightbird in San Francisco Compère Lapin in New Orleans and Roots Southern Table in Dallas.
Each is a great stop when traveling, but now if you can't get to those restaurants, they will come to you. The food will be just like what you'd get inside. And if the hospitality is lacking, you have no one to blame but yourself.