St. Patrick's Day is here, which means you're going to require Irish things to drink.
So, put down that green beer, and pick up this Irish Coffee.
It comes from The Dead Rabbit, the New York bar that's won just about every accolade there is for bars, including Best Bar in the World. When they painstakingly tinker with a cocktail until they think it's perfect, it's wise to take heed.
In creating the recipe, Dead Rabbit's owners, Jack McGarry and Sean Muldoon, gave the same level of attention to the whiskey as they did the coffee, sugar and cream (freshly whipped, of course). And the ratios are exacting. With one and a half ounces of whiskey, it packs a punch without overdoing it. And that's the point: You can have a couple to start your morning and still function through a full schedule of St. Patrick's Day activities.
Or mid-afternoon meetings.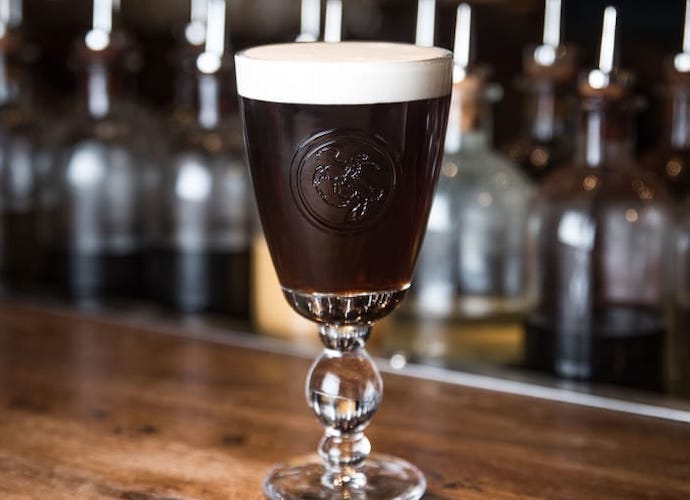 Irish Coffee Recipe
Ingredients:
1 1/2 ounces Irish whiskey
3/4 ounce rich demerara syrup
4 ounces brewed hot coffee
Heavy cream, lightly whipped, to top
Nutmeg, freshly grated, to garnish
Instructions:
1. Pour the whiskey, demerara syrup and hot coffee into a six-ounce Irish Coffee glass, leaving a half inch of room at the top for cream.
2. Top with the freshly whipped heavy cream.
3. Garnish with freshly grated nutmeg.