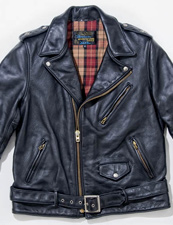 Sure, you know how to wear a suit with the best of them.
But occasionally your weekend exploits require attire with a little extra edge. We're thinking a little leather should do the trick.
And if you can evoke The Boss while you're at it, all the better.
Presenting the
Schott for Barneys Heritage Perfecto
motorcycle jacket, an update on the stone-cold classic for a limited run at Barneys, available now online to boost your badass quotient.
Whether or not you own a Harley, you've seen the 90-year-old original model of this jacket—asymmetrical with a host of zippers and buckles—and had a fleeting notion that you could pull it off. After all, if it worked for Springsteen (gracing the cover of
Born to Run
), Brando (in
The Wild One
), James Dean and Joey Ramone…
But you'll be glad you waited for this newer version: it's washed a few times (the original is so stiff it can stand up straight), so it's broken in
before
you ride it cross-country. It's also cut slim, with less padding in the shoulders (Brando could provide his own padding, thank you very much) and less bulk in the arms (ditto).
And there's even a red plaid lining that's a throwback to the first Schott jackets.
Guaranteed to fit until you go on the Brando diet.