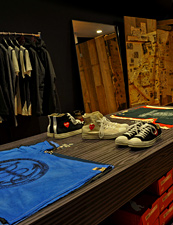 You're not anti-shopping.
You just wish you could do it in a place that's a little more chill and cozy than all the chaotic big stores in the city.
Good news: we've got one for you. And it even serves the occasional cocktail.
Introducing
Uncle Pete's
, the new hangout parlor-meets-house of style in your life, soft-opening this Saturday in Beacon Hill.
If a close buddy of yours opened up a retail shop in his own apartment on the Hill, it would look a lot like Uncle Pete's. In the front, there's a small fireplace lounge with a handmade couch, a plush vintage ottoman and knit sweaters and shirts from brands like Nice Collective. In the back, there's an all-black room with specialty tees by Rogues Gallery and a fitting room lined with old Globe and Herald newspapers (perfect if you're still wondering who won that Ali-Frazier fight in '71).
And in the middle of the space: a cool wall-sized shoe rack that hides a small wet bar, which will be put to good use during special in-store DJ nights and cocktail parties in the future.
Here's hoping the very near future…