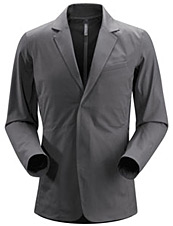 You have your office clothes. 
And you have your cold-weather gear.
And never the twain shall meet.
But we're not sure why. And neither was a clothing company from Vancouver called Arc'teryx. Which is how they came up with a line called
Veilance
, available now at the Concepts store in Cambridge.
The idea is simple: clothes you can wear to work that will also help you, like, not freeze. The best example of this is the Veilance blazer (pictured), which uses a Gore-Tex lining and a self-explanatory technology called Windstopper to keep you warm on your commutes this winter, even if your office is located in the wind tunnels of the Financial District or the Back Bay (or Mount Everest, for that matter).
They've also got a dress shirt we really like (with a secret pocket that seems perfect for a post-work flask), as well as a good-looking long coat with practical touches like a hood, zippered hand pockets, a Gore-Tex shell and an interior pocket for your wallet.
You can find all of these items right now at Concepts, and for the full Veilance arsenal, check out the Tannery website
here
.
It's either this, or bundle up like Ralphie's little bro in
A Christmas Story.
Note:
<a target="_blank" href="http://veilance.arcteryx.com/">Veilance by Arc'teryx</a>, now available at Concepts, 617-868-2001, and online <a target="_blank" href= "http://www.thetannery.com/brand/arcteryx/veil.aspx">here</a>