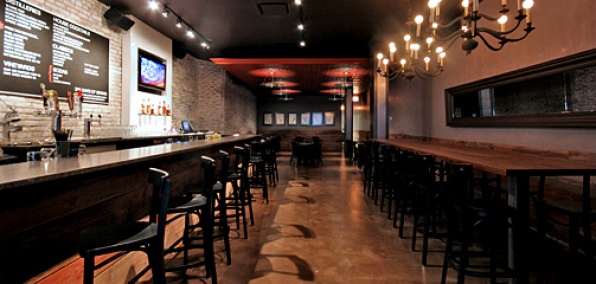 You respect casual relationships.

We speak, of course, of the one between a juicy burger and an ice-cold beer—a coupling that's managed to keep the magic alive after all these years. So we're pleased to introduce DMK Burger Bar, your new favorite place for low-commitment, high-satisfaction encounters.

Chef Michael Kornick (the MK) and David Morton (whose family is behind Morton's The Steakhouse, so he knows from meat) have created a haven where you can retreat into the comforts of artisanal beef, craft beer and the occasional chocolate cookie-coffee ice cream sandwich.

With the genteel-but-rustic remnants of an old Wisconsin barn adorning the walls, it's the kind of space where you and a date can lean against padded banquettes, share a basket of Parmesan and truffle fries, and sip Madame Geneva's Rhubarb Delight (gin, lime soda, ginger rhubarb jam). But more likely, you'll be leading a pack of ravenous beasts to a communal table to let loose on 30 artisanal beers (including 22-ounce malt monsters like Robert the Bruce Scotch Ale from Three Floyds) and 13 kinds of burgers (beef, lamb, turkey and something called "veggie").

Now, these aren't super-crazy heart-clogging huge; they're more like $8 meat masterpieces topped with things like chili-rubbed onions, smoked bacon, New Mexican Hatch chiles, hand-crafted cheddar and other delights. Still, if you're inclined to add an extra patty to your burger, go ahead.

Consider it temporary insanity.