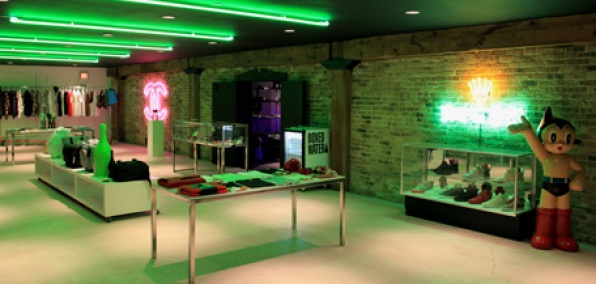 The Dow briefly breaks 10,000. Manufacturing picks up. Real estate prices rise for three months in a row.

Yes, the news is looking up.

And yet…it still feels like consumer confidence needs that little nudge.

Buying that $50,000 skateboard you had your eye on—you know, one of six Louis Vuitton decks with Stephen Sprouse designs—should do the trick.

Welcome to RSVP Gallery, a hidden treasure trove (and veritable stimulus package) of some of the craziest art and fashion this side of a Kanye West video.

Look for the lurid pink-and-green glow emanating from enormous neon Chanel and Rolex logos, seeping out of Damen Avenue basement windows. (Both are specially commissioned pieces of pop art, which we think would happen look great in your apartment.)

Then walk past the vintage Astro Boy statue that greets as you enter a world where belt buckles and bow ties are made from Lego bricks, oversize Beatles and Daft Punk vinyl toys make sweet music together, and plenty of limited-edition T-shirts and sneakers await your fitting.

And then, past the pop art miscellany, you'll find an oversize, Kermit the Frog-green plastic ice bucket shaped in the form of a…Dom Pérignon bottle. (Get your head around that.) On Friday, the shop is hosting a tasting where you can see how it works.

The bottle, not the champagne.