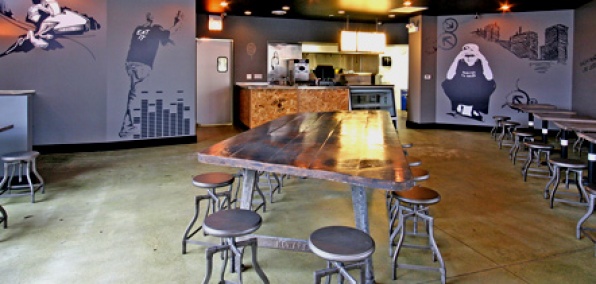 You and the CTA have had some issues lately.

Fare hikes, long waits and the fear of touching anything without first donning a pair of rubber gloves (and then using a bottle of Purell).

But before you abandon public transportation, let us introduce Belly Shack, opening tomorrow, perhaps the best reason to hit the rails since gas was at $4.

Wedged under the "L" tracks across from the Western Avenue station, think of it as Urban Belly's tough cousin, the sort who went to culinary school but never lost his passion for a little graffiti—as evidenced by the Shepard Fairey/Bansky–style street art on the walls.

After a hard day, hop on the Blue Line (though you might want to pick up a sixer of Sapporo first). Then, fall into the welcoming comfort that only warm Korean barbecue sandwiches, industrial lighting reclaimed from a factory floor and a communal table made from reclaimed 200-year-old maple can provide.

At the counter, you'll choose between Asian (lemongrass chicken sandwich), Latin (a vegan version of the jibarito, marinated tofu between fried plantains) or occasional mash up (a hot-and-sour soup with hominy). For dessert, there's vanilla-coconut soft-serve topped with things like mint brownie or bacon chocolate chip cookie crumbles, which are imported from Hot Chocolate on Damen. If the earth moves while you're eating it, it's probably just the train going by.

Probably.