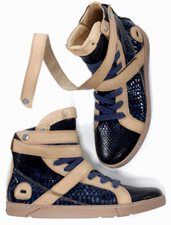 It's good to have choices.
You already have shoes for the office, shoes for the gym and boat shoes (or in your case yacht shoes). But up until now you've been lacking in a set of sneaks for your inner Run-D.M.C. (those spontaneous rap-battles you occasionally find yourself in require adequate footwear, after all).
Introducing the
Sapphire Python
Sneakers
, brought to you by Boston-based designer and occasional Puma collaborator Darin Hager of Heyday footwear, and exclusively available on the East Coast at the Tannery in Cambridge. Think of it as a new way to inject a little faux-python in your life to complement those afternoons spent
tossing python filets on the BBQ
.
Hager braves southern China's Quanzho industrial zone every two months to bring you this crazy line of footwear for casual shoe enthusiasts and sneaker nerds alike. The kicks are handmade and extremely limited (only 48 pairs are available in the color seen here), and although the snake scales are technically fake, the designers use five colors of leather and a dead-on scale pattern to mimic the area between a python's belly and back.
Which, incidentally, is also where a python is most ticklish.