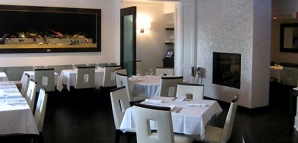 Breakfast, of course, is the most important meal of the day. But lunch…well, lunch is the sneakiest.

At least the best ones are.

Introducing Pelago Ristorante, quietly opened in the Gold Coast's Raffaello Hotel, ready to delight your afternoons…with a promise of more to come later. (No one teases like the Italians.)

Nestled in the shadow of the John Hancock, you'll find a rather small space, but not one without ample comfort for a business lunch. Start by relaxing at the marble-topped bar with a full-bodied Tuscan while you wait for that leggy account you've been trying to reel in.

And while the dining room is as tranquil as the Mediterranean itself, set with aquamarine pops of color and a Murano chandelier, ask instead for that cozy nook of a table hidden just behind the fireplace. (We'd hate for anyone to overhear your merger plans.)

For now, your seafood and pasta lunch of Swordfish Carpaccio; shrimp salad with cream and chive vinaigrette; and homemade penne is just a taste. The chef was imported by the culinary rock star behind Lidia's Italy, before he created his own Michelin-starred trattoria in Tribeca and then chucked it all for a chance to conquer Chicago. He wants to keep things under the radar until he feels his staff is ready to handle dinner service.

Think of it as another reason not to rush through lunch.