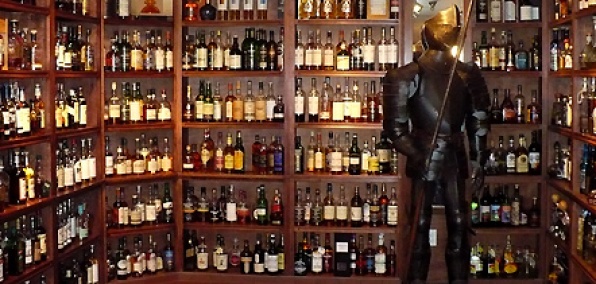 This town offers every kind of indulgence you can imagine (up to and including jewel-encrusted tiger suits), but every once in a while, you want a different, more restrained kind of decadence.

Like the kind that comes in a bottle.

Welcome to the Whisky Attic, a formerly members-only treasure trove of distilled goodness that just happens to have the largest whisky selection in the country, now open to you and your friends as of tonight.

First, a warning: this second-floor hideaway doesn't pack the same punch as, say, an evening at the Bellagio, but what it lacks in atmosphere it makes up for in good old-fashioned (and old-fashioned) quantity. The walls are lined with the best and brightest brown liquors on the planet, and you'll have your pick from 1800 bottles in sum, including a 32-year-old Springbank that'll run you $400 a dram, a discontinued Loch Dhu black scotch and just about every Canadian and Irish whisky in production. Maybe "restrained" was the wrong word...

Like Everest, this much booze requires a lot of sober preparation before you take it on, so we recommend stopping by in the early evening when you've got enough time to savor a few drinks before heading to the next party. The proprietor's an adjunct professor of Wine and Spirits at UNLV (we hear the final's brutal) and his specialty is an educational endeavor he calls "flight school," which offers four of his better potions in succession with an informative, booze-related lecture on the side.

Clearly, you went to the wrong college.