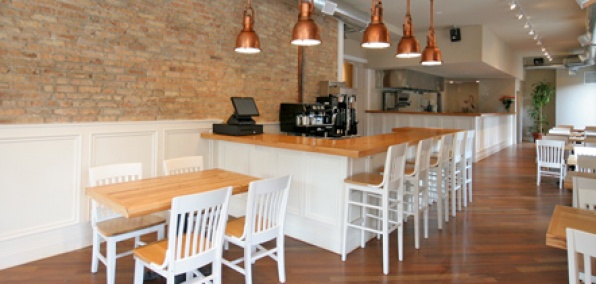 So this is how it begins.
First a handsome
new neighborhood watering hole
suddenly appears. Innocent enough. Then before you know it—wham!—someone's serving you an organic weekend brunch just a few blocks away.
Welcome to the revolution, Bridgeport-style—and say good morning to the newest member of the culinary vanguard,
Nana
, a breakfast-and-lunch specialist opening Monday.
Don't worry, as far as revolutions go, this one's pretty velvety—we know how you like to ease into things when it's this early in the a.m. You'll walk in to find a room, clad in exposed brick and reclaimed pine tabletops, that feels airy and bright—but, you know, not too bright (again, you and mornings). A room where a smiling barista greets you with a steaming cup of brew from Metropolis.
But if you're concerned about the food police hitting you over the head with an organic stick here, relax. A pair of neighborhood brothers is behind the place so you and your Sox-loving buddies will feel fine about stopping in for 100-percent-grass-fed burgers or BLTs slathered with chipotle mayo before heading to the Cell.
And on late Sunday mornings while brunching with your artist/hipster pals, you'll find free-range eggs, chilaquiles and banana buckwheat pancakes loaded with mulled hemp seeds.
Just don't let anyone bogart the pancakes.