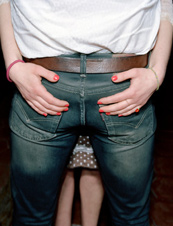 Whether it's peering into the abyss before base jumping in the Amazon, or whiffing the air over a bowl of 12-alarm chili prior to devouring it, we think it's admirable to look before you leap.
But sometimes, you don't have that luxury. Like when the new jeans store in town announces it's leaving before it opens.
Welcome to
Wash House
, soft-open as of today on Newbury Street. The first Boston shop from Los Angeles denim czars 7 For All Mankind, it's a pop-up store that'll be in your life for just six months. Think of it as sort of like a jeans intern.
As you walk inside you'll notice the place has a slightly industrial, Andy Warhol-y feel, featuring large canvasses, brushes and paints by the entrance for you to scratch your artsy itch while shopping (because when you're looking at denim, your mind is always just one step away from a creative explosion).
The pièce de résistance of the floor is the large, plywood-constructed denim bar, making it easy for you to feast on the selection of jeans, all hand-washed in LA and imported from Italy (naturally). They'll also be offering some sportswear, although we're hoping denim won't be the fabric of choice in that case.
It's tough working out in a jean jacket.