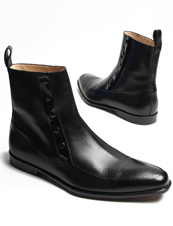 This might sound a tad superficial, but we've always believed that with the right clothes, you can conquer any feat known to man. You can don socialite seersucker as needed to command attention in the Hamptons (and/or front a fast food franchise), or slip on a timeless black tux for suave deeds of derring-do. 
But if you're looking for that well-sauced, well-heeled, famous American writer look, you may need to plan ahead.Our advice: start with the shoes.
Introducing
Mr. Hare
, a Britain-by-way-of-Tuscany shoe line perfect for well-outfitted giants of literature (that would most definitely be you), available now.
More precisely, each shoe in this line is named after a famous writer, which means you'll be able to hold your own in any impromptu Tolstoy arguments without having to sweat...or, you know, read. You can establish your moral-crusader credibility with a little help from "Mr. Orwell"—a speckled black lace-up—or opt for the simpler dress shoe named for Tom Wolfe (shockingly, available only in black). Either way you'll have the kind of unimpeachable style that's usually reserved for novelists, poets and exceedingly well-heeled Strand employees.
If you take a more active approach to your literary pursuits, you might do better with the Kerouac boot—a lace-up stomper perfect for tromping through the woody wilderness or jumping up stairs at the Jane—or go with the (Hunter S.) Thompson, a button-up version of the same boot.
Just be prepared for a little fear and loathing.