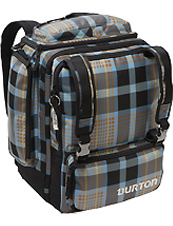 We don't mean to be the bearers of bad news, but summer is swiftly winding down.
So it's time to get this party moving.
Here to help,
The Liquid Lounger
, a brand-new backpack from the geniuses at Burton, who have created the ultimate party multitasker: part ice chest, part stereo, part activities director. But don't worry: your job is secure—it still needs someone to wear it.
Before strapping in, you'll put 36 cans of your favorite ice-cold, frothy beverages in the insulated central pocket. A separate ice pouch in the door ensures they remain the perfect temp when you arrive at the campsite—which this weekend means your rooftop for an Air & Water Show viewing party.
Start things off by passing out the cans (by the way, the bag also comes with four neoprene koozies), and plug your portable music player of choice into the bag's auxiliary jack. Two built-in stereo speakers will start pumping "Rock You Like a Hurricane" as the F-whatevers buzz by.
Should you need something to entertain you between barrel rolls, the bag comes with a few Ping-Pong balls (though no paddles) and a pack of dice—in case you need to demonstrate your bone-throwing skills. However, you'll be most interested in a metal flask that is also included, which you filled with something suitably summery.
We're thinking daisies. Though gin might work, too.