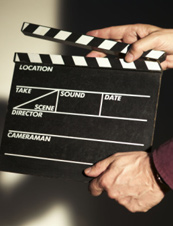 So you're getting your morning coffee, and there's a ravishing beauty in front of you in line.
And from her mouth springs an eloquent bon mot that's sheer poetry. It's awe-inspiring. Reawakens your sense of all that's right and beautiful in the world.
And it desperately needs to be stolen for your new screenplay. Quickly, before you forget. Finally, there's an app for that—
Screenplay
, from Black Mana Studios, is now on sale in the iTunes store.
Say you're in the elevator, heading up to the office, and suddenly, the heretofore elusive premise for your
Office Space
-meets-
Orphan
drama instantly takes root. (
Bring Your Daughter to Work Day is about to get deadly.
) Or maybe you're with your starlet at Playhouse—those starlets, always clubbing with their screenwriters—and the
limber staff
inspires you to throw some trapeze sex into tomorrow's rewrites.
Merging the mobility of an iPhone with the Final Draft-esque formatting capabilities required by any self-respecting screenwriter/barista, the Screenplay app remembers character names, moves easily between action and dialogue, and so on. Once you're through, you can email the changes to your producer—or just paste it into the script on your computer when you're back at your desk.
Now as for that Three-Picture Deal app…