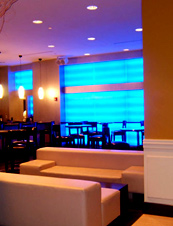 It's good to know people.
Having the right friends can get you last-minute tickets at Fenway, open a closed velvet rope on a Saturday night, or land you that coveted multimillion-dollar Esplanade contract.
So when we caught wind of a pseudo-secret evening filled with steak, scotch, stogies and classic gangster cinema, we figured we'd guarantee you a seat at the table, if you decided you wanted one.
Introducing the
Vinalia Speakeasy
, an invite-only night beset by seared beef, top-shelf liquor and world-class cigars, all pulled together under the shroud of faux-secrecy.
Now, a bit of warning: in the Vinalia's ambitions to create a Porcellian-esque superclub, this night will be men-only, apart from the female servers (who might want to bring earplugs…or just a lot of patience).
Your evening begins with hors d'oeuvres as you enter, then moves swiftly to every label in the Johnnie Walker canon and a professional cigar roller to whip up your personal smokes. The fat 16-ounce rib eye you'll be eating while watching the original 1932 Howard Hawks production of
Scarface
will require a good cigar afterwards, after all.
There are only 40 spots for this, and we're letting you know first so that you're at the front of the line. We're also making sure that if you mention us, you're definitely in.
That's what friends are for…