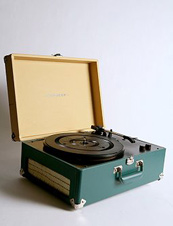 This whole Michael Jackson thing has left you terribly nostalgic. You've gone through your dusty vinyl collection, studying the covers and gently running your fingers over the grooves.
But because you wisely replaced your record player with a Sony Discman during the first Clinton administration, you're now craving a way to actually listen to these curious relics of the analog era. Or, better yet, take them on a picnic.
Here's our solution: Pick up a
Crosley Portable USB Record Player
, a travel-ready record player for the Internet age. 
First and foremost, you'll appreciate that Crosley offers an easy way to transform that old milk crate of vinyl into squeaky-clean digital music, thanks to MP3 software that's included with it.
But better yet, when you plug it into your USB port, the machine also becomes a fully powered, old-fashioned record player—complete with its own built-in speakers. You'll soon rediscover the joys of that treasured Nirvana 7-inch, a rare Beastie Boys 12-inch, and the vintage P.Y.T. 45.
And while you're not going to squeeze this into your pocket, when you're on the go, you'll just snap the chrome latch, pick it up by the built-in handle and head off.
Somewhere, a break-dancing contest is in need of your scratching skills.