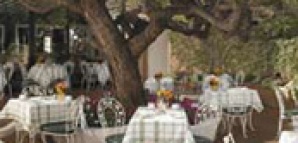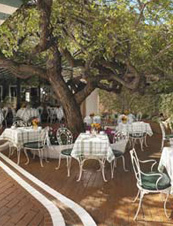 When you picture an oasis of Tom Cruise deal-cutting, Heidi Klum wackiness and a poolside martini or three…
You could really only be picturing the Beverly Hills Hotel hideaway known as the Polo Lounge.
Or your place. Because for the first time in its storied history, the Polo Lounge will now come to you. Introducing
Polo Lounge Catering
, officially available for your private blowouts.
Whether you're planning a wrap party, a wedding or just a really good Saturday, the Polo Lounge is now willing and able to show up with a fully stocked martini bar—you'll have the classic, of course, but they can throw anything from pomegranate to watermelon to chocolate into the shaker for your guests. (To each her own.)
And it goes without saying you'll probably want four courses or so, to really get the night going—probably the shrimp cocktail to start, then maybe the
Black-Truffle Glazed Filet Mignon
and that eternal mainstay, the
McCarthy Salad
. And after years of shaking hands at the Lounge, they know you have a special bond with your favorite waiter—so they'll accommodate staffer requests from regulars—and of course your favorite table.
Only this time it's literally
your
favorite table.