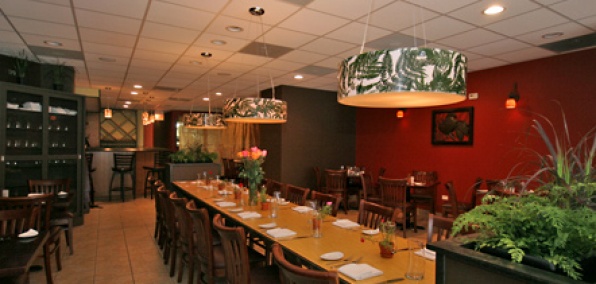 Something's fishy in Lincoln Square.

In a very, very good way.

Welcome to Browntrout, which debuted last night, a new port of call for you and your latest catch…

Snug and earthy, Browntrout has the feel of a romantic fishing excursion, only without all the night crawlers and general gaminess…

You and your row-buddy will want to grab a quiet spot on either side of the huge 14-person communal table, and dive in with some of the freshest catches in the city, prepped by an ex-Bin 36 chef—everything from Walleye Pike (line-caught in Canada and spiced up with seasonal pea tendrils and morels) to pan-seared Golden Trout (shipped straight from Fond du Lac, Wisconsin, and sprinkled lovingly with mint and toasted walnuts).

If you'd rather stay on dry land, go for the grass-fed top sirloin. Or, if you're feeling extra brave, step up to the house salad, peppered with something called "Spahm," a housemade Spam made up of pork liver, smoked ham hock, chicken breast and pork butt (so it's got some meat to it).

There's no need for hip waders at this joint, either—just bring a bottle of something nice, since they're BYOB for the next few weeks.

You can put it in a thermos if you'd feel more comfortable.