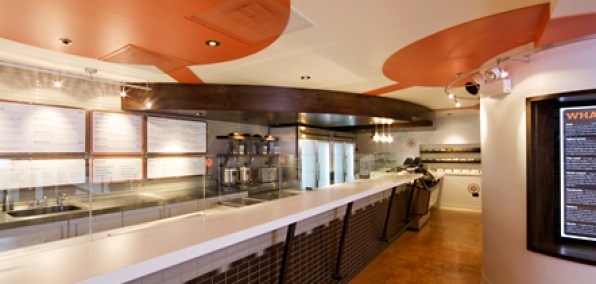 Energy. It's important.
But after a weekend like
you just had
, we're betting you could use one hell of a recharge this afternoon.
Introducing
Protein Bar
, a new café in the Loop dishing you the most energy-boosting drinks and foods known to man, open today.
Low-slung, stylish and located directly across from the Tower Formerly Known as Sears, Protein Bar is the brainchild of a 29-year-old triathlete who left his job at Kraft to bring you tastier ways to get your daily momentum fix.
Before work, you'll want to pop in for energy-enhancing protein shakes like the
Fruit Loop'd
(blueberries and banana),
Oak Street Peach
(peaches and agave nectar) and
Mag Mile Mocha
(more like an iced coffee, with an espresso shot), blended with your personal pref of milk (skim, soy, rice, etc) and protein (whey, soy, egg powder et al).
For lunch or post-workout, they've got chili, healthy wraps and some fun dishes like
Pancake in a Bowl
(essentially oatmeal that tastes like pancakes) and the instant-classic
Crackberry
(a purple, gelato-like treat with granola, yogurt, bananas and acai berries).
You can also finish off any food or drink with a free herb blast, like
Libido Blend
.
Because we're tired of excuses.