What happens in Vegas, stays in Vegas.
Unless you're a journalist and you keep a diary. Then what happens in Vegas leaves Vegas and gets published for all the world to see.
Case in point: our Senior Editor, Sam Eichner, was invited by The Cosmopolitan to experience an "Ultimate Gentleman's Weekend," from Thursday, March 21st to Sunday, March 24th—during the first and second round of March Madness.
What follows is love and basketball, jubilation and failure (but mostly jubilation). There are duck wings. Gambling. Hockey. Some Dads. A bunch of beer.
Today, we present part one. On Monday, we'll present part two.
—The Editors
Thursday: Airplane Bathrooms, Arena Nightclubs and Craps Galore
1pm: I land about half an hour early in McCarrran Airport. The driver cheerily greets me at the baggage claim and asks me how the flight was. I tell him it was good, because that's what you say. But I was lying. The flight was bad. I'd drank too much coffee before boarding, in the hopes of staying up to watch Bohemian Rhapsody on the plane. I was curious about the Rami Malek performance but couldn't bring myself to actually rent it at home. Then I realized I hadn't brought the right headphones, and took it as a sign that I should just try to nap. That didn't work, either. Meanwhile, the sweet old lady next to me from Jersey was watching Green Book on mute. She'd already seen it, she said, before attempting to explain the plot: "He starts out as racist, but then he isn't..." After the movie is over, she flips on Fox News. The Oscars, amiright!
Also: because of the coffee, I keep having to pee. The flight is a little over 5 hours, which means you're free to get up to pee once, at most. I get up at least twice. It's embarrassing to flaunt this social norm. And what's worse, the last time I go I find that all three toilets for coach have been clogged. I'm at the front of a line that's backed up to pretty much row 18. A flustered flight attendant is literally trying to transfer paper towels from the toilet to the plastic bag, muttering to herself angrily. "Who puts paper towels in the airplane toilet?" I ask the guy next to me; he shakes his head. Something is amiss here. I return to my seat, bladder full, and inform my seatmates of the situation.
"It seems there's a toilet terrorist amongst us," I joke.
Wrong crowd; it's a precipitous start to a gambling trip.
1:30pm: We arrive at The Cosmopolitan, where another journalist and I are whisked away to VIP check-in. There's champagne; champagne, here, is everywhere. There's also an Eggslut delivery form we're supposed to fill out for Saturday morning—I choose a bacon, egg and cheese for my friend (who will be joining me later tonight) and a sausage, egg and cheese for myself.
I debate going to put some money down on roulette, but decide on a Korean pork shoulder sandwich—tender; spicy; slightly heartburn-inducing—from an aptly-named place called Lardo in the hotel's mini-food hall and retire for a nap instead.
[Ed. Note: If Chekhov had a gun, Eichner has a breakfast sandwich.]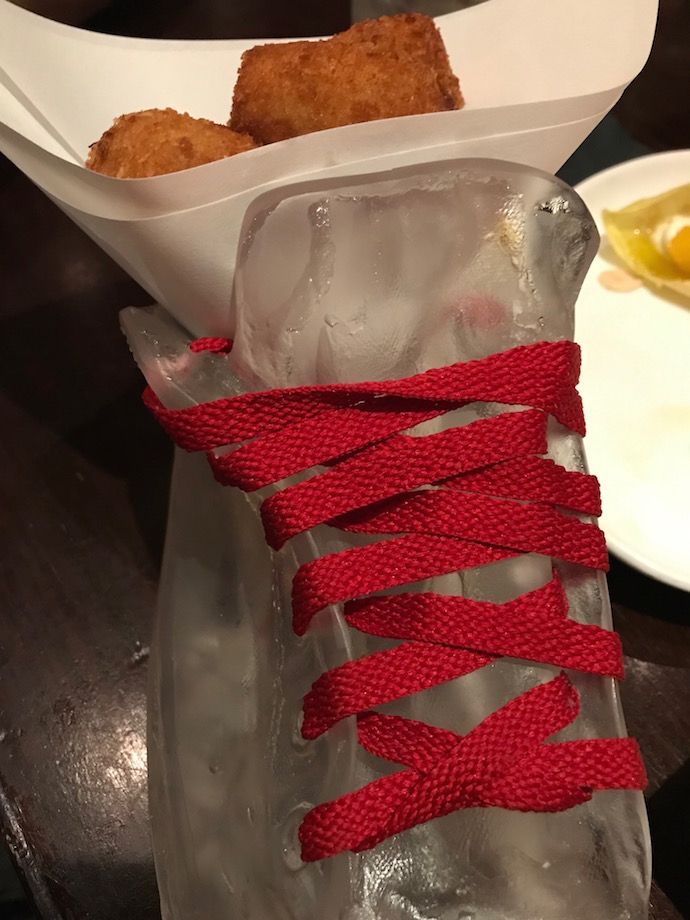 5:15pm: All the press and the PR reps meet for a Happy Hour at Jaleo. It's one of three restaurants celebrity chef and all-around-good-human José Andrés has tucked inside the hotel (there's also the uber-exclusive é and a Chinese-Mexican fusion spot called China Poblano).
I order a negroni and try not to over-indulge on the delicious chicken-nugget-y type hors d'oeuvres stuffed inside a gym shoe (see above).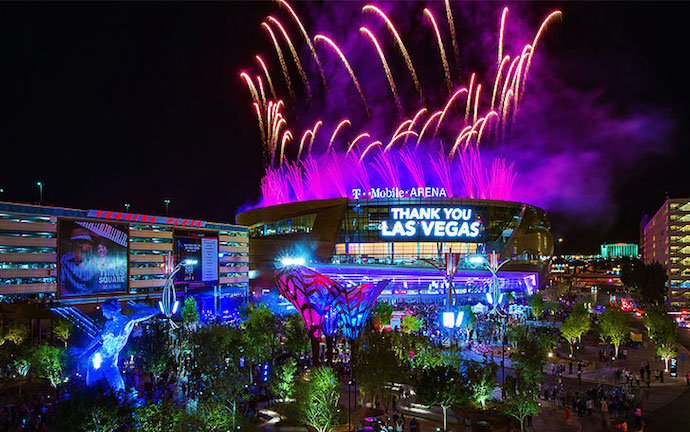 7pm: We arrive at the T-Mobile Arena, the 20,000-seat home of the Vegas Golden Knights, the city's first professional sports team (though the Oakland Raiders are moving in time for the 2020 season, and some speculate the Oakland A's will follow). Though my experience was brief, it would be hard to overstate how much Vegas loves their Golden Knights. Upon hearing I was going to the game, my bellhop could barely contain his excitement. A maniacal grin spread across his face. I grew mildly concerned.
As with almost everything in Vegas, the T-Mobile Arena feels like a typical version of the thing it's supposed to be that's been tricked out in Xzibit's garage from Pimp My Ride. The concessions don't sell fries, they sell duck-fat fries; the VIP suites aren't boxes, per se, they're cordoned off areas of an 18,000-square-foot nightclub on the arena's upper level, called the Hyde Lounge. That's where we head. Our section includes bottle service and an onslaught of stadium food. There's a Cirque du Soleil performance involving trampolines at halftime. The crowd goes nuts every time the Golden Knights score, which they do often. They crush the Winnipeg Jets, much to my friend Ross and I's chagrin. For some reason, we'd tempted the fates and put $50 on the Jets before leaving the hotel.
10:30pm: We consider going up to our room, but Ross and I head to the tables instead. I immediately purchase a pack of Marbolo Reds, even though I don't really smoke, because I feel like I should? We start at craps. I don't know how to play, but Ross says he looked up the rules on his phone on the plane. This does not inspire confidence. We each get $200 in chips. Turns out, craps is pretty easy, by which I mean if you're not a complete bozo it's basically all luck. I smoke a few cigarettes and drink a few whiskies. We play for an hour or so and I come out about $10 ahead.
"I could've literally stood there for 8 more hours," I tell Ross on the way up to our room, echoing the sentiments of every single other person who has ever been to Las Vegas.
Friday: Man Caves, Momofuku and the Ultimate Barbershop Speakeasy
9:15am: I'm up for breakfast at Chandelier 1.5. According to the itinerary, this is the Cosmopolitan's "most iconic and Instagrammable venue." It's understandable why this would be the case: it's literally a bar-sized chandelier on the second floor you descend into via a winding staircase. With, in this instance, very thick-cut bacon.
10:05am: The Talon Club is the hotel's open-to-the-public high-roller gaming area. It feels a little like that poker room in Casino Royale, where Daniel Craig wins all that money before dying and being brought back to life, but with journalists instead of villains, plus way more mimosas.
At the Talon Club, you can bet $100k on one hand of blackjack, if you wanted to. We don't. Our group participates in a slot machine competition (for free), the winner of which gets a gratis custom suit. This involves hitting a button as fast as you can for about five minutes. It's stupid how fun it is. Meanwhile, in the room over, some hunched-over dude with a grizzled beard is playing blackjack, with a stack of chips that could very well amount to a couple hundred grand. We could all go on forever like this, I think, before excusing myself to inspect the Talon Club's restroom.
12:30pm: One of the main reasons to stay at The Cosmopolitan over March Madness weekend is their Hoops & Hops event (pictured above). They essentially convert an entire 40,000-square-foot ballroom into a man cave, with wall-to-wall TV screens showing every game, an open bar, two pop-a-shot machines, its own sports book and a buffet with wings and shrimp and brisket and Caesar salad, the unofficial salad of man caves everywhere. But for the glow of the TVs, the entire room is pretty dark. Everyone inside looks like they belonged to a frat five or ten or 20 or 30 years ago. The ratio of Dads wearing cargo shorts to women is approximately 3-to-1. Men are gripping their paper sports book tickets with a mixture of terror and glee; the ballroom smells faintly of buffalo wing and air conditioning. Towards the end of the games, even blowouts, oohs and ahhs periodically erupt, because either their team hasn't covered the spread or they've hit the over or the under. I feel our tether to the real world here is stretched to the point of snapping.
Ross and I place a few bets down and hit the VIP area, which is a bunch of couches in front of several cinema-sized screens. With a bucket of beer, and a few wings, and a pack of peanut M&M's, and a table to put our legs up, the whole thing makes up for me losing a bet on my alma matter, Wisconsin.
4pm: The kind people at The Cosmopolitan have scheduled a massage for me. At this point, I'm feeling pretty gross, from eating candy and drinking beer all day. The massage helps. Although there's a reason I don't get massages, which is that I'm incredibly ticklish below my knees, so for the duration of something designed to be relaxing I'm actually quite tense, trying not to laugh or otherwise give away the fact that I'm basically a child.
7pm: We're meeting at Stitched, a made-to-measure boutique inside the hotel with a back room area, where, the owner assures us, "a man can be a man." Two leather couches face each other. There's a framed screenshot of Frank Sinatra from the original Ocean's 11 hanging on one wall. Another wall is lined with whiskey lockers for loyal customers, including one for the MLB superstar, Bryce Harper (a friend of the owner, and an ambassador for the brand), but he doesn't drink so it's just full of Gatorade. There's a scotch tasting. I get meticulously measured for a bespoke blue oxford. It's reasonable to assume I leave manlier than I came in, though if the whiskey put any more hair on my chest I may have to alter the size of my shirt.
8pm: Of all the items on this weekend's itinerary, one stuck out to me the most, and that was Momofuku. I'd been meaning to go back in New York, but I rarely have the necessary foresight when it comes to making dinner reservations. Back in 2017, when it first opened, I wrote about David Chang's Vegas outpost, though I never had the chance to experience it firsthand. The menu is more or less a mashup of the kind of Asian fare you'd find at his other locations, but with some over-indulgent shareable plates tailor-made for groups of Hungry Vegas Boys™.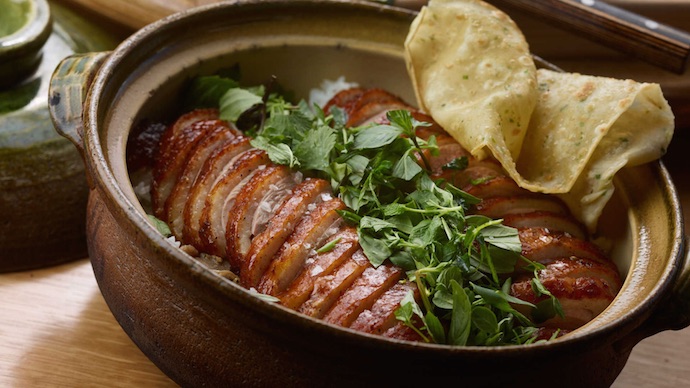 Our tasting runs the gamut. The tuna tartar covered in foie gras shavings is a standout, the tuna's brightness tempering the overpowering richness of the foie gras; to witness the lightly tempura-d shrimp and lobster and crab legs, tossed together in a single white serving bowl, provides a satisfying sensory experience in and of itself. But the real showstopper is the large-format 5-spice roasted duck, served in tender hurdles over a field of rice with bouncy chive pancakes, ginger-scallion sauce and hoisin, from which I hungrily construct some of the best taco-like creations I've ever tasted. The fried duck wings, which come out a bit after, are so juicy and packed with flavor on their own right that to dip them in the sauce feels vaguely sacrilegious. All you really need is one bite, which is fortunate—one bite is all I have room for.
10:15pm: At some point in the last decade or so it became de rigueur to transform your barbershop into a speakeasy; in the Instagram era, a place where men went to get their hair cut and beards trimmed, to shoot the shit and maybe sip a tumbler of whiskey, has inevitably abstracted itself into a replicable aesthetic, a look and mood and tone which has spread from the coasts to the desert.
Nowhere is that more explicit than at The Barbershop Cuts & Cocktails, newly opened inside The Cosmopolitan. There is a small, working barbershop (more on this in part two), with the familiar old-school trappings: a pair of black leather barber chairs and checkerboard floors, classic print ads and black-and-white photographs and an old-timey cash register. Behind a rear door there lurks not a subdued speakeasy but a handsome den of iniquity, replete with a booming sound system, a performance stage, VIP areas and bottle service—the Vegas vision of a version of a thing.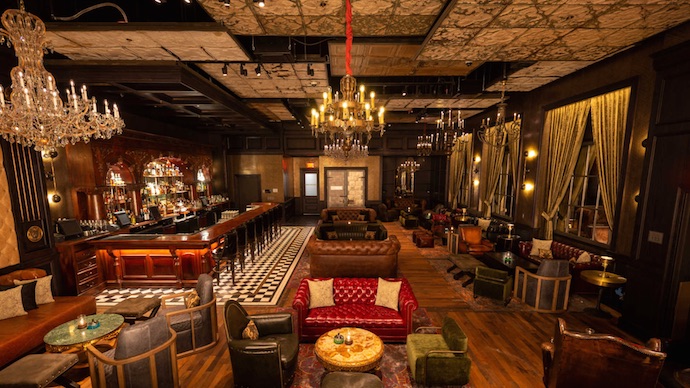 It's an awesome space nonetheless, particularly because it's still a bit more low-key and rock n' roll than the other nightlife options you might encounter on the Strip. I was looking forward to seeing a performance from Dennis Quaid's band, because apparently the actor Dennis Quaid has a band now (and they're good!). But unfortunately, he had to cancel. We drown our Quaid-related sorrows in whiskey cocktails.
12:15pm: The Barbershop spits us out onto the casino floor, where Ross and I spy an open blackjack table. We pony up. We lay down $150 each. We both proceed to lose five hands in a row.
"This is really dumb," I say as we get up, echoing the sentiments of every single other person who has ever been to Vegas.
1am: There is a wine bottle in our room made entirely of chocolate, and before we go to bed Ross and I take turns biting off chunks of it. This feels both disgusting and luxurious. Which, in some ways, sums up our experience over the last 36 hours.