What happens in Vegas, stays in Vegas.
Unless you're a journalist and you keep a diary. Then what happens in Vegas leaves Vegas and gets published for all the world to see.
Case in point: our Senior Editor, Sam Eichner, was invited by The Cosmopolitan to experience an "Ultimate Gentleman's Weekend," from Thursday, March 21st to Sunday, March 24th—during the first and second round of March Madness.
What follows is love and basketball, jubilation and failure (but mostly jubilation). There are fast cars. Penthouse suites. A private jet. And two wicked hangovers.
On Friday, we presented part one. This is part two.
—The Editors
Saturday: A Hangover at the Racetrack, Dinner in a Private Jet Hangar and Copious Amounts of Champagne
7am: A knock on the door awakens me from what my body has experienced as a drunken catnap. I answer in my underwear to find a hotel employee with a platter of Eggslut sandwiches and coffee. I'm on the slo-mo slip n' slide from still-drunk to fully hungover, so I'm still experiencing everything as a kind of sick joke. But while my friend Ross mumbles about me turning off the light, I pull open the curtains a tad and sit down on the chair in our room to dig into the food, because I know I'm going to have to get behind the wheel of an expensive car and drive very fast around a racetrack soon. So many obligations!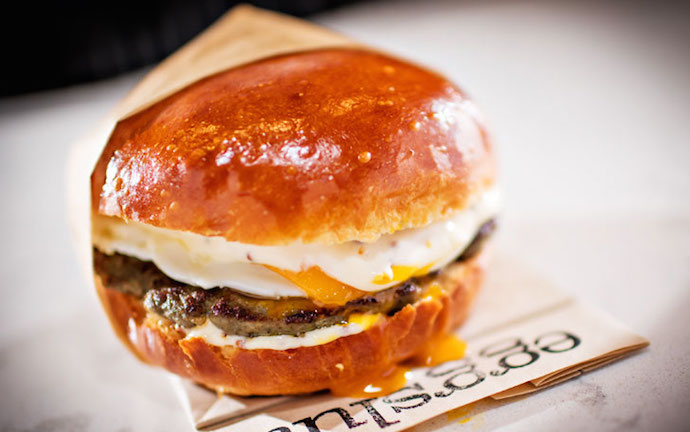 The sausage, egg and cheese is unbelievable—easily one of the best breakfast sandwiches I've ever had. This is in part because they construct them using a semi-sweet, breakfast-y burger bun, as opposed to a bagel. Far be it for me to critique something I enjoy on a regular basis, but eggs are too slippery and bagels too chewy for them to work together in tandem; each bite seems to challenge one element to defy the other. The Eggslut bun works in perfect harmony with the thin slab of egg, which is gooey but not runny. The housemade turkey sausage provides stability. It's sandwich architecture at its finest.
And yet while I know I need to eat I'm not quite ready for food. The still-drunk side of me wants to wolf it down, while the hungover side of me wants to slow down. The still-drunk side wins, and as I turn on the shower it's hard to imagine I'll be able to get behind the wheel of a car within the next few hours.
8:45am: We take a bus out of the city and into the desert, where we eventually pull into the lot of Exotics Racing. These guys operate out of the Las Vegas Motor Speedway. It's a 1.2-mile track with an 1,800-foot straight away, 15 minutes north of the Strip. People go there to drive a few laps around the track in one of the supercars available on-site, from a Lamborghini Huracan, to a McClaren, to a Porsche 911.
I'm not a car guy—as in, my parents made me wait an extra year after my 16th birthday to even take the test to get my driver's license, because I almost backed out into oncoming traffic once—but as we walk around the vehicles and inspect them on the lot, I'm in awe. These are the kind of cars I'd only ever seen in glossy magazine photographs and dorm room posters, and witnessing them now in the flesh so sleek and clean and shiny and impeccably contoured, they inevitably maintain an aura of dreamy artificiality, as if they're merely models of the real things.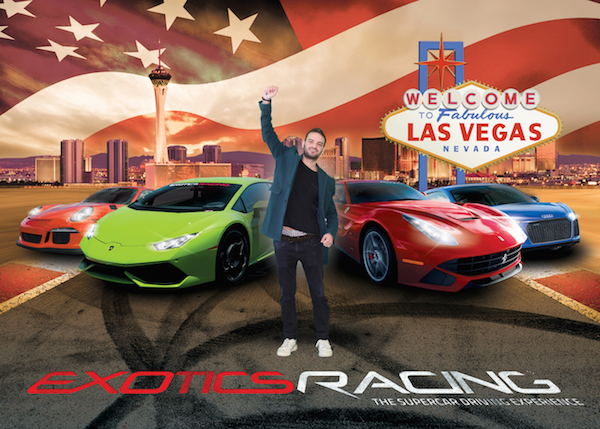 By the time we pose for a picture—err, see above—I'm still feeling a bit woozy, but reassured that I won't be a danger to myself or others. There's a debriefing, where they briefly go over the dos and don'ts of the track. Then we get in the back of an SUV while one of the instructors maneuvers us around the track, going faster than I feel comfortable going, particularly after 1,000-some odd calories of meat and cheese. Finally, I get behind the wheel of a car myself.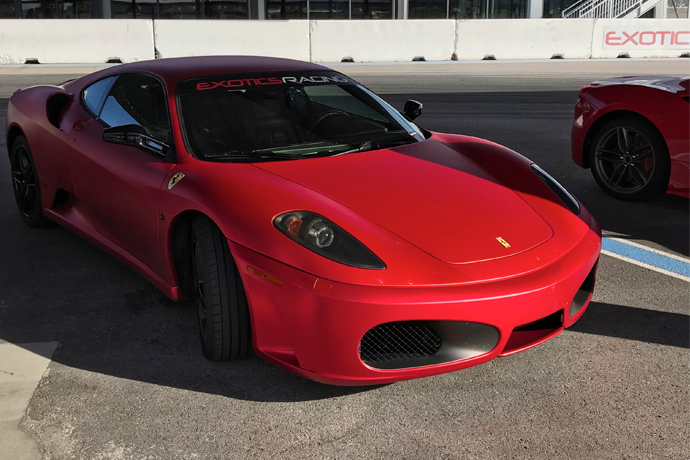 My chosen vehicle is a Ferrari F430. It's red. It's got a kind of matte chrome finish. It's—and I know this sounds cliché—very sexy. The car purrs like a jungle kitty as I give it some gas and pull reluctantly onto the track. My instructor's name is Brandon, and while he seems totally confident and in control—he has a passenger-side break, should I totally lose my shit out there—I can sense him sensing my discomfort. The pick-up on the Ferrari, rounding into the first turn, is such that it literally impales you to your seat; each acceleration feels like the starting jolt of a rollercoaster.
Coming out of the first turn and onto the straight-away, Brandon tells me to push the pedal to the floor. "Go as fast as you can," he says, with a matter-of-factness that belies the nature of his request.
I watch the needle wander past 100mph and through the haze of my mind-numbing hangover I hear myself let out a barely audible "woah." I realize I'm still wearing my topcoat, the formality of which is at odds with the racing helmet; it accentuates the fact that I stumbled out of bed and into some clothes and onto a frickin' racetrack. Brandon tells me to switch into a lower gear and hit the brakes hard as we come off the straight-away and shoot into another turn—shooting is how it feels, starting high on the turn before hitting the inside corner—and we continue to make our way around the track. Most of the time I drive with relative caution. Everything you're supposed to do on a racetrack goes against what you've been taught to do on the road—namely, slow down. But during the final lap I finally feel like I get ahold of where I'm going and what I'm doing, and the sensation of zipping around with even a semblance of control is nothing short of ecstatic. When we finally exit the track and park back in the lot, I'm in a daze. I know I'll probably never do anything like this ever again.
Back inside, everybody's times are posted on a TV screen. Unsurprisingly, I'm somewhere near the bottom. Exotics had the wise idea to give its guests USBs before getting in the cars, and to film each ride, so that by the time you leave you've been emailed a video of yourself on the racetrack (one camera is focused on you; the other is on the road). For something so out-of-the-ordinary, the experience really is seamless. It's the perfect non-drinking Bachelor party activity—particularly because, while the supercar experience is expensive (it starts at about $250 for 5 laps), they also have a great go-cart track.
12:15pm: By the time we get back to the hotel, I'm so pooped I have to excuse myself from our scheduled lunch and head back to the room to take a nap. The Eggslut is not helping matters at this point.
2:30pm: I have an appointment at Barbershop Cuts & Cocktails for a haircut. I'm expecting it to be a quick trip: I'd actually gotten a good trim a week earlier, because I didn't want to look too shaggy for the trip (I have the tendency to look shaggy).
But when I sit down in the chair, a look of concern creeps across my appointed barber's face.
"Who cut your hair?" he asks sternly. He has a beard like James Harden and an accent like Zohan. It sounds as if he's taken personal offense to what this previous barber did to me, and would like to exact revenge.
I tell him my guy in Brooklyn did it (but avoid specifics). Could he do better?
He chuckled. This was a stupid question. Of course he could do better.
What follows is the longest haircut I've ever had in my life. The ratio of time spent per hair is inordinately high. He starts by shaping my beard, mostly with a straight razor. There are certain flicks he makes that seem to suggest he's taking out a single hair at a time. His dedication and focus is admirable. By the time he gets to my hair I'm quite comfortable in his hands. Although when he's finished, my hair looks to me the same as it did before, just shorter. But what do I know? (Seriously, I know nothing.) My beard, meanwhile, looks cleaner than it ever has. Ross, who has spent this time losing more money at blackjack, says it looks "painted on." Suffice it to say, it's a style my parents and club-goers in Las Vegas may appreciate more than my fellow Brooklynites.
3:30pm: The Cosmopolitan has set up a private cabana for us at the hotel's 4th floor pool, and though it isn't really pool weather—it's probably 70-degrees in the sun—we decide to check it out, anyway. Ross and I expect to be intimidated by the type of beautiful people hanging around the pool—I am 5'8" with muscles turning to flab and too-much shoulder hair—but we're quickly reminded of the hotel's primary clientele during March Madness. I feel a renewed sense of kinship.
5:30pm: After returning to our room to change, Ross and I head back down to the casino floor to lose the rest of our money before heading to dinner. It seems totally logical, given we probably won't have time to lose any more money after dinner.
First, we get carded at a craps table, after Ross asks the people in charge if they'd consider changing the $50 minimum to a $25 minimum (they refuse). It's a bad omen but we continue anyway, and I promptly lose almost all of the chips I'd won—or held onto—the first night.
We decide to try our hand at roulette, where we manage to hang around for a while. Ross even hits his number once or twice, before giving most of it back. I smoke a cigarette or two, have a beer. By the time I've lost it all I at least feel like I've gotten my money's worth, and am aware that putting any more cash down would be a dangerous proposition. Fortunately, we have a penthouse tour to get to...
6:30pm: Until quite recently, the top four floors of The Cosmopolitan sat vacant. But as part of a five-year capital investment plan by the Blackstone Group, they've since been filled with 21 Boulevard Penthouses, exclusive to guests who are willing to put a minimum of $1 million on the line at the casino. According to at least one travel expert, cited in Bloomberg, this makes them the most expensive hotel rooms anywhere in the world.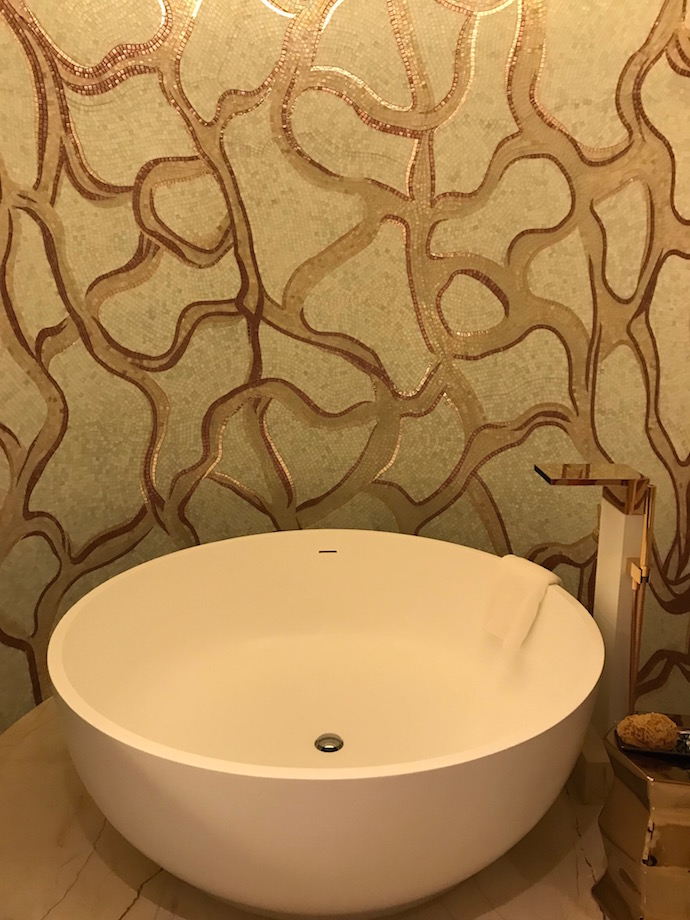 From the three we toured, they certainly look it. Two were designed by Duan Curry, the famed New York interior designer; one was designed by Adam Tihany. Highlights from these suites include: wrap-around terraces with unobstructed views of the Strip and beyond; bowl-shaped bathtubs (pictured); steam rooms; private spas; tasteful abstract art; a sex swing; Japanese toilets; an angelic white piano; a surround-sound karaoke machine; a four-seat private bar; a circular cushion carved out of a wall of marble; pool tables; 24-hour butler service; a culinary team determined to make you whatever you desire; seemingly unlimited champagne; numerous tomes from Taschen; a pool table; a chess table; gold-plated light fixtures; and more.
So artful and decadent are these suites that it's almost impossible to imagine drinking cheap booze or devouring Eggslut or generally being a degenerate inside them. Of course, the people staying here can afford to not have to worry about breaking anything, or otherwise disrupting the rooms' articulate feng shui. And naturally, they're getting pretty wild—at least according to a private butler we interrogate, who won't divulge the name of the celebrity guests he's seen but responds to every question with a bemused smile, as if to say, "I've seen it all. And you don't even know."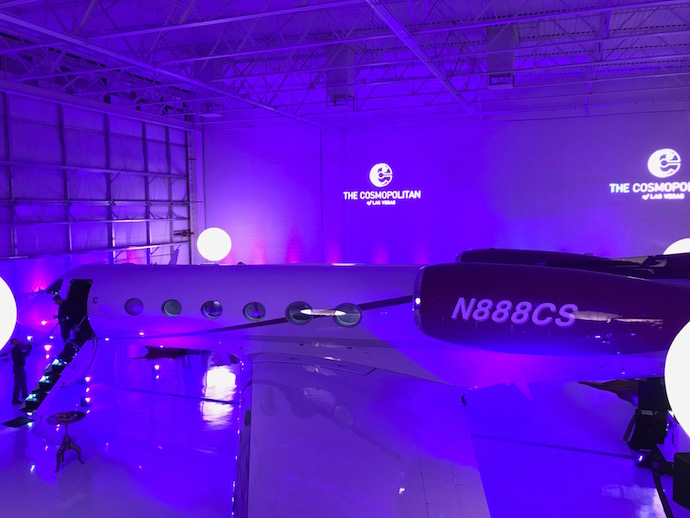 8pm: Unlike some other hotels on the Strip, several of which have begun to rely more on other sources of revenue, like event hosting, to reap profits, The Cosmopolitan seems to be doubling down on gambling. It wants to be a destination for the whales. As such, it requires a private jet; and therefore, a hangar to house it. Anyone can request transportation to and from Vegas in said jet, provided they're willing to start a $2 million line of credit at the casino. No biggie!
Understandably, we're just here for dinner. It's the first such event The Cosmopolitan has ever hosted there, and it's fabulous, which is a word I don't use lightly, because it's a word I imagine saying in the voice of a haughty, bejeweled woman plotting to murder her husband. The jet takes center stage, naturally; it's genuinely a sight to behold. The inside, with its lounge seating and gold details, feels like a scene out of an episode of Entourage.
The head mixologist for The Cosmopolitan has prepared a bevy of special negronis—which use white instead of red vermouth—and they serve as a great aperitif. A DJ has set up her decks almost directly under one wing of the plane; between the first and second course, she spins a club mix of "Shallow," from A Star Is Born, and I audibly grimace.
"She's a pretty famous DJ," the person next to me says. I try to hide my disdain. Is nothing sacred here? (That is a rhetorical question.)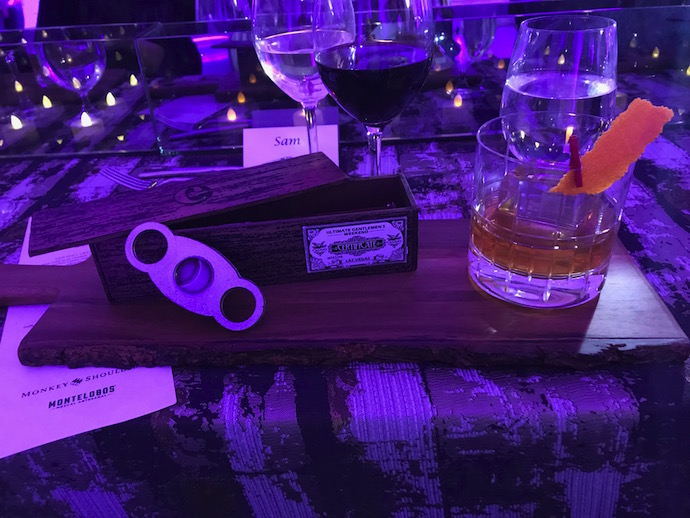 The food is pretty spectacular, but the desert is something else: a chocolate cigar box complete with a chocolate cigar filled with a milk chocolate mousse and banana-flavored caramel. Even the cigar cutter is made of chocolate. I can barely handle any more of the food, but the cocktail it comes paired with—a smoky, orange-y mezcal-and-scotch sipper—is downright delicious.
10pm: Satiated and a little wobbly, I stumble into the headquarters for Maverick Helicopter. We're going on a helicopter ride over the Strip. As with most of the weekend's activities, it all happens pretty fast. One minute I'm having a glass of gratis champagne—approximately the 14th of the weekend—and the next I'm up in the air, soaring over the Strip with the pilot and a few giddy companions. I try and fail to take any meaningful video; the idea that I could is laughable. The night swallows the world at the edges of the glittering city; from the sky, the Strip is resplendent but wonderfully serene, a collection of stars in the blacked-out expanse of the desert.
11:30pm: From the quietude of the helicopter ride, we return to the boom of the Marquee Nightclub, inside The Cosmopolitan. We take our place in the provided VIP booth, swarming the bottles deposited on our table. So this is what clubbing is, I think to myself, debating whether to "raise the roof." I'm not really sure what to do up here. In a casual white button down and black jeans, I feel both underdressed and overdressed. I can't tell if I'm too old for this or too young (I'm 27), because the club inspires the same level of baseline anxiety as a college frat party situation, yet there's no way dudes in college could really afford this (is there?).
It's one of several moments on a trip designed to celebrate my masculinity that leaves me feeling slightly emasculated, which has absolutely nothing to do with the fine people at The Cosmopolitan and everything to do with general insecurities re: my manhood.
Sometime around 2pm: I pour myself a tall glass of water and pass out in bed without drinking it.
Sunday: The Very Scary Sunday Scaries
11am: I make the mistake of sleeping through the complimentary IV therapy, only to arrive at the airport literally weak-at-the-knees and short-of-breath, from a combination of little sleep, lots of booze and Friday's effective massage. I'm a firm believer in the notion that the quality of your weekend is directly correlated to how anxious you become on that Sunday; in this case, I'm about two notches below a full-on panic attack. I'm so freaked out about everything and nothing all at once—work; eating vegetables; going to the dentist—that before the flight I open my laptop and review past articles on this very website for typos, as if fixing grammatical errors could cure me of my ailments, physical, mental, emotional and spiritual.
All of which is to say: Man, what a crazy weekend.