Amidst the hype for the groundbreaking Oscar noms, Super Bowl hype and NBA All-Star drama, the 2018 Grammy Awards are sneaking up on us fast. The 60th installment of the Recording Academy's big night airs this Sunday at 7:30 PM ET. But we understand that Sundays are precious—and that maybe a Daddy Yankee performance isn't necessarily your speed (though I'd make the case that it 100 percent should be). So in the spirit of efficiency, let's rumble through every real reason to give the Grammys your attention come Sunday night.
Gary Clark Jr. and Jon Batiste will be wailing out a Fats Domino and Chuck Berry tribute.
As if hearing classics from some of rock 'n' roll's most iconic pioneers isn't enough, you're getting two of today's greatest living musicians paying the respects. Good luck watching the rest of the ceremony with your face melted.
You're going to want to intensely study every outfit Childish Gambino wears throughout the night.
The multitalented fashion icon will be walking the red carpet, performing, and (hopefully) winning lots of awards. So look out for the wardrobe changes for the human style guide.
Bruno Mars and Cardi B are bona fide showstoppers every time they grab a microphone.
Mars—who is like if an atom bomb came to life and started playing guitar—is capable of unhinging your jaw every time he opens his. While Cardi B is currently the most magnetic rapper on earth. Considering the two are performing Finesse, this is our call for gig of the night.
The nominees are...pretty decent.
If all goes according to plan, the right folks will go home with shiny golden megaphones this year.
Oh hey, look, the greatest rapper alive is going to play a few songs for us.
That would be Kendrick Lamar, who will be taking the stage with Best New Artist-nominee SZA, who made one of the creative albums of 2017. No word yet on if he'll be c-walking in his new Cortez Kenny 1s that just dropped today.
Come for Lady Gaga's vocal chops, stay for all the gifs.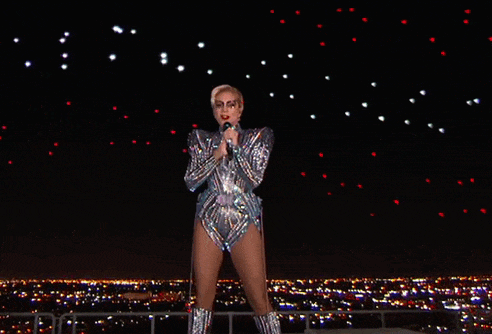 Yes, I think you will watch Sting rip through a quick set, thank you.
Prayer-hands for that Every Breath You Take/Peter Gunn Theme mashup from The Sopranos.
That one band—um, U2, I think it is—will be dropping by.
And now it's a party.