Every Christmas, Santa Claus gets to do this really fun thing where he subjectively judges children to declare them "naughty or nice." Conveniently, this also happens to be a good template for judging the performances of football players. But over the years, the whole "naughty or nice" credo just hasn't really grown on me very well—it feels borderline creepy. So let's still use the template, but opt to go with the Pennsylvanian Dutch Christmas approach—as made famous by The Office's Dwight Schrute—and declare our worthy athletes "impish or admirable." It's also just a lot more fun that way, because where Santa is kind of gleefully judgmental, Belsnickel is a little bit more harsh and discerning and appropriate for the game of football.

And now that he is finally nigh...
Admirable: Cam Newton
This is by far the most significantly cool thing I have ever seen anyone do on a football field:
pic.twitter.com/uYeBjXeMfB
— Nate Freeman (@NateFreemanNFL) December 18, 2017
That's Clay Matthews letting Cam know that he's got his entire bag of tricks snuffed out, only to have Cam utterly embarrass him in front of his entire team—with a big, fat, perfect Cam Newton smile on his face.
I'm sure things like this occur frequently throughout the course of an NFL game (right?), but I'm not sure anyone's ever done it with the same charm and flare that Cam just did. Very admirable, indeed.
Impish: Ben Roethlisberger
We all know Big Ben has a knack for the fake spike, and apparently, so did the Patriots.
The game ender. pic.twitter.com/dTySft0BtY
— New England Patriots (@Patriots) December 18, 2017
Wild, right? Who would have thought a goalline slant route would have ended up a game-sealing Pats interception? I guess dumb plays can simply just backfire on you sometimes. Happens.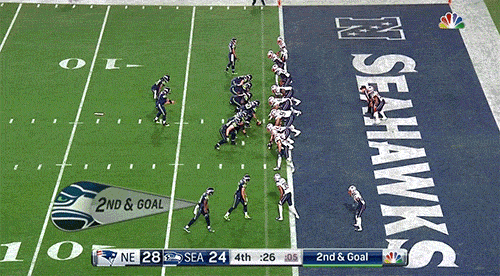 Admirable: Ben Rothenberg
Here's New York Times freelance writer and apparent choke artist, Ben Rothenberg, taking some serious Twitter heat after the aforementioned Roethlisberger interception:
Steelers lost, I gather. pic.twitter.com/eV1aP5RJ2f
— Ben Rothenberg (@BenRothenberg) December 18, 2017
Imagine receiving a bombardment of hate notifications on the occasional Sunday simply because a few folks on the internet forgot to put on their readers. Kudos to Rothenberg for letting us in on the fun. Very admirable.
Impish: The Seattle Seahawks
In case you missed it, the Seahawks got absolutely ransacked by the Los Angeles Rams yesterday, wherein Russell Wilson was sacked seven times for a loss of 71 yards. The Legion of Doom didn't make things much prettier on the other side of the ball either:
Todd Gurley has 3 TDs and 144 rushing yards at half.

Including this 57-yard touchdown pic.twitter.com/VFLOH1BCe7
— Dov Kleiman (@NFL_DovKleiman) December 17, 2017
That was speed-enthusiast Todd Gurley going literally untouched on his way to 180 total yards and four touchdowns on the day (or roughly 42 admirable points in most standard fantasy leagues). The Seahawks are looking uncharacteristically bad at a point in the season when they have previously seemed locked-in—with effort and interest disappearing fast in the midst of a tight NFC wildcard race. Let's declare them impish.
Admirable: This Guy Who Slid Marshawn Lynch Some Mid-Game Skittles
Psssst, Beast Mode.pic.twitter.com/BvWnzvR1mx
— The Checkdown (@thecheckdown) December 18, 2017
You can walk into a store and buy an ounce of marijuana in the very same town Lynch plays in. Yet here is a glorious member of the Oakland Raiders staff delivering Beast Mode some Skittles like it's a heroin deal in 1970's Harlem. NFL Twitter gets better every Sunday.
Impish: DeShone Kizer
Here is an actual DeShone Kizer stat line at one point in the Brown's 27-10 loss to the Ravens:
DeShone Kizer's stat line right now... pic.twitter.com/Ms5CGMGl8I
— Bleacher Report (@BleacherReport) December 17, 2017
Kizer's quarterback play? Impish.
Bleacher Report's tweet? 100 percent admirable.
Admirable: Philadelphia Eagles
One thing to know about New York and the general northeastern United States these past few days: it's been cold. (Like, the kind of cold where you stuff a dozen tissues into your back pocket, walk out the front door of your house and proceed to immediately walk right the fuck back inside. That kind of cold.)
Which is why the Eagles choosing to keep things warm and toasty yesterday was a perfect celebration approach.
S'MORES COMIN RIGHT UP pic.twitter.com/13IHDxPKDH
— The Checkdown (@thecheckdown) December 17, 2017
That guy slid into the campfire like I'm going to slide into my airplane seat this weekend to head home for the holidays. Only I won't have a Belsnickel judgmentally awaiting my arrival. My dog likes to do that part.
See you next week. I declare you all admirable.