Heisman winner and 2018 NFL Draft prospect Baker Mayfield stirred up the internet last night by posting a detailed, carefully constructed recreation of Brett Favre's infamous 1991 draft day picture. The result was a phenomenal success, as you can see for yourself below: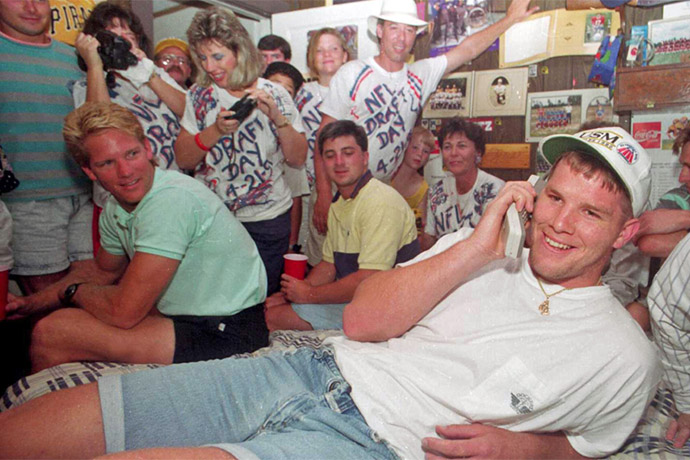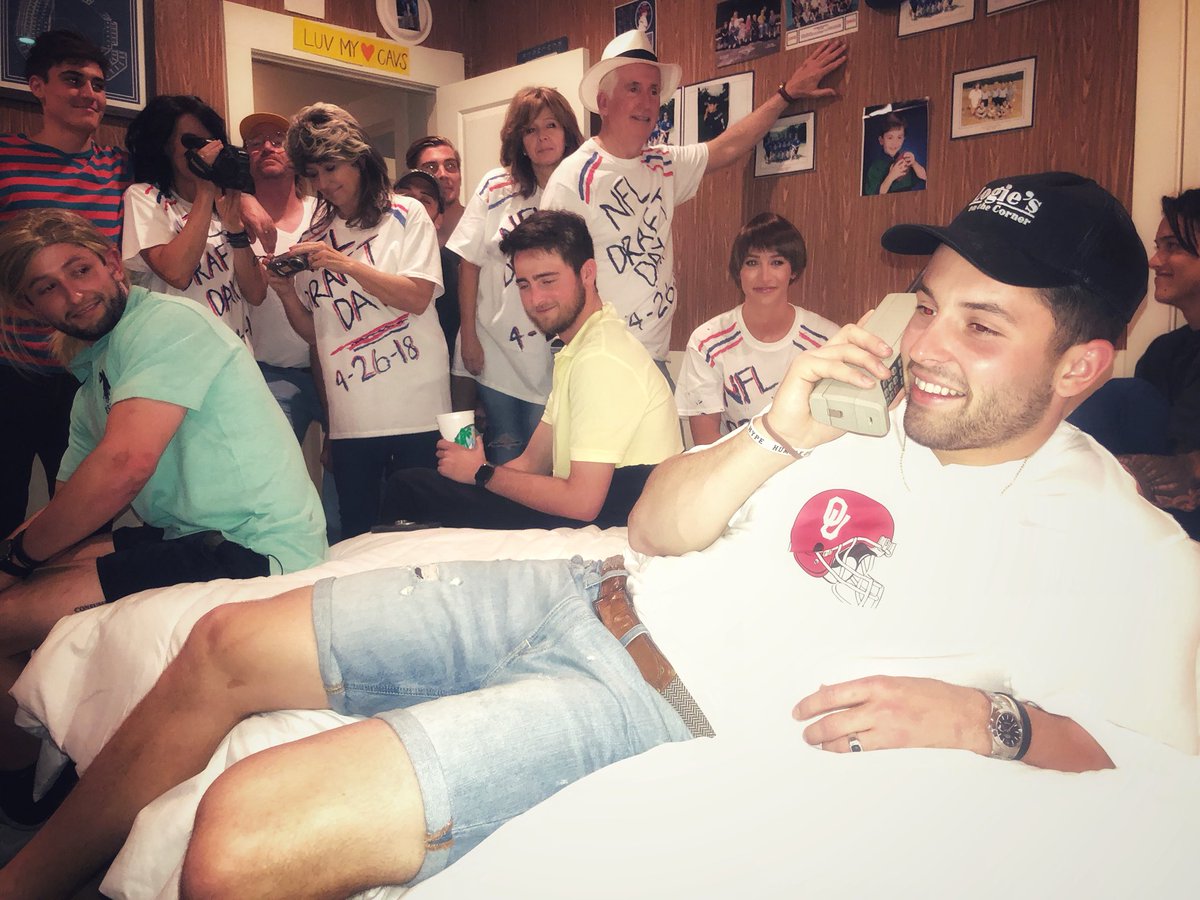 Baker's attention to detail here is uncanny—and his noble attempt at hanging as much crap and clutter on a wood paneled wall as Favre did (what a sports nut) should also be recognized as valiant. It's so well replicated, in fact, that it beckons the question: Who did it better?
It feels like the most efficient way of determining this would be to break down our cast of characters one-by-one, and compare them on an intimate, side-by-side basis. So let's do exactly that, starting with the signal callers themselves.
The Draftees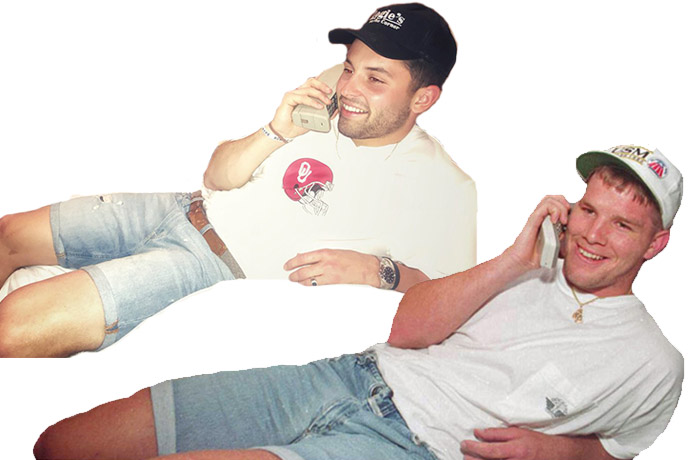 The thing that stands out most here is phone selection, wherein Baker's bulked up handheld—in 2018 mind you—easily bests that of Brett's. But that's about where Mayfield's advantages comes to a halt. Favre takes the authenticity cake here on account of the little things: the '90s Southern Miss cap resting just so atop an unforgivable haircut, the beltless jorts, the gold chain. This round tilts to Favre.
Favre 1 - Mayfield 0
(It's important to note that my favorite part of this exercise, as you will continue to see, is the resulting image mash for each comparison—this one appearing as if a couple of bros just had to take a load off in their jean shorts, dishing about Karla from Home Ec, as they blow the lid off their mom's telephone bill.)
The Turquoise Boys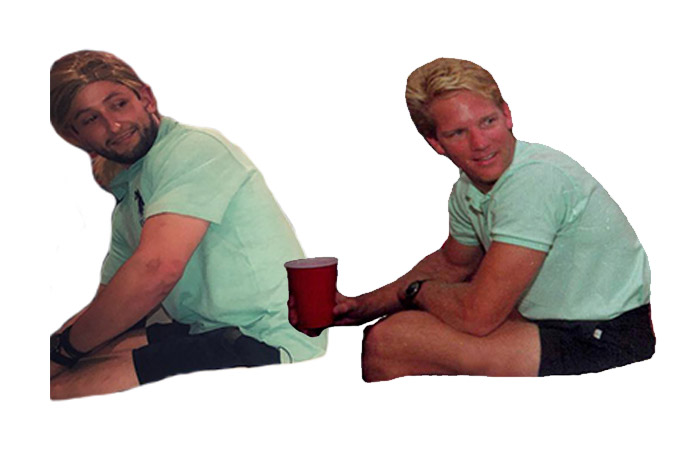 These two gentlemen look much too identical to Mayfield and Favre to be anything but their brothers. So right off the bat, the Turquoise Boys matchup is about family—this is why we play the game, folks.
Brother Favre is certainly the most aesthetically pleasing at first glance. He's got a solo cup that pops and phenomenal biceps to pair with a perfectly quaffed mane. But like last round, it's the little things that make the difference. Only this little thing happens to be a big thing, because the enormous unavoidable hair piece Brother Baker is sporting just all-the-way won him this fight. It's shameless and perfect and arguably more fun than anything else in the photograph. Point to Team Baker.
Favre 1 - Mayfield 1
The Drunk Dudes In Yellow Shirts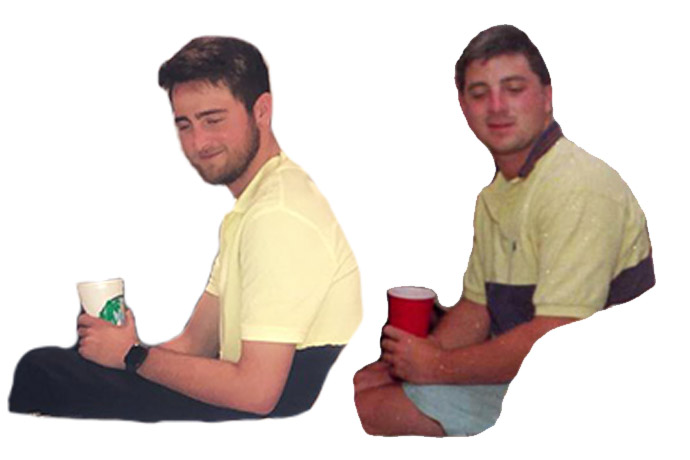 I cannot in good conscience not award this point to Team Favre, whose broseph catching a top-notch beer buzz is so zoned in on Brett's ass that the fact he is being drafted into the National Football League is not even a sentient thought.
Favre 2 - Mayfield 1
The Handmade T-Shirt Crew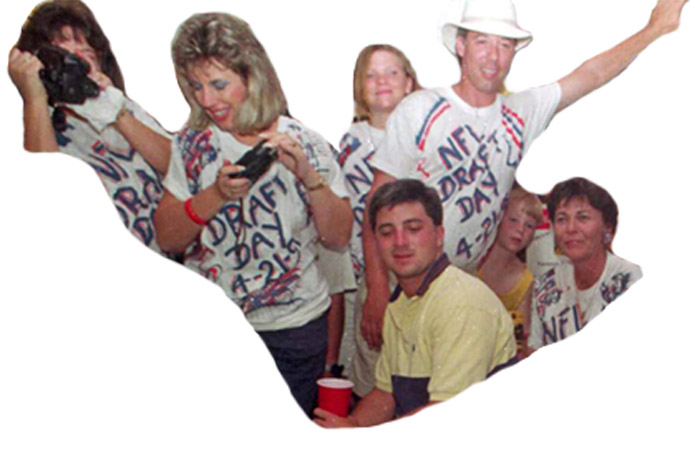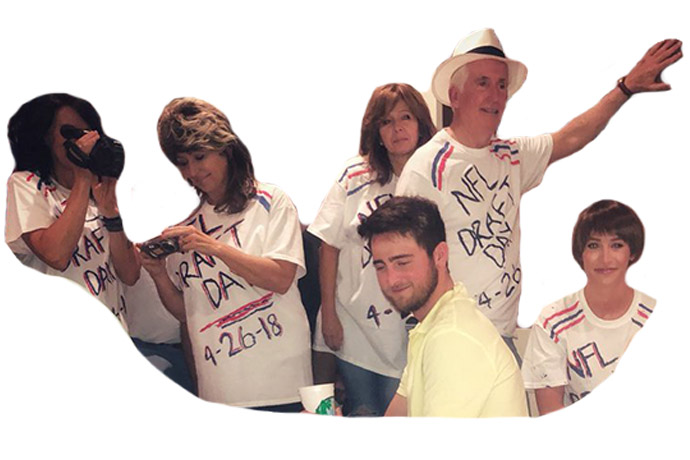 Baker's dad does a bang-up job of replicating the Panama hat pose from '91, as does the woman holding the retro camcorder. But the quality of t-shirt is what separates Favre's family from the pack. You can tell just a little extra love and attention went into those bold, graffiti fonts of the '90s—so much so that our little guy peeking out from the back is all-the-way steaming pissed he didn't get one.
Favre 3 - Mayfield 1
The Nosy Neighbor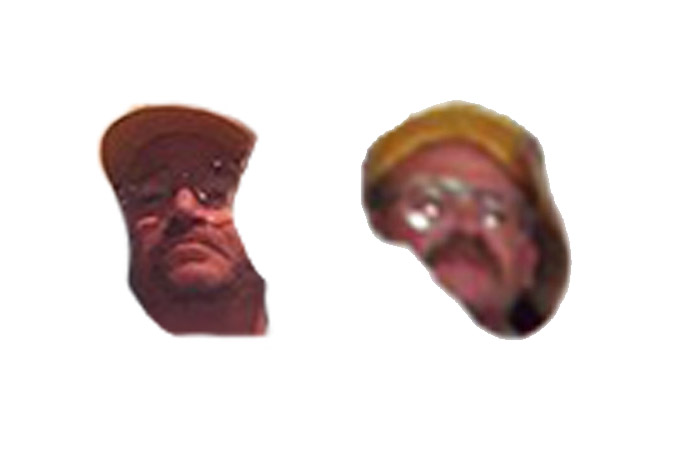 As Team Favre really starts to pile it on poor Baker, our last category hones in on my personal two favorite peeping Toms in the back. Just look at those two drunk uncles sniffin' around back there.
Baker's folk really adds a nice touch of flare to the photograph with the classic white tank and distressed denim. But again, points must be allocated to Team Favre for sheer authenticity. Observe the mustache, and the way his head barely peeks over the shoulders of a persistent crowd blocking his view. This is a man who had zero clue a person would be drafted into the NFL at that party. A man who simply came for the Bud Lights and the good conversation. That man deserves to be rewarded.
Favre 4 - Mayfield 1
So again, we must ask the question: Who did it better?
Brett Favre. Brett Favre did it better.