Week 13 of the 2017 NFL season has officially settled in after a Sunday full of great throws, terrible play and outstanding celebration work. Each week, we'll take part in admiring these fine catches and blunders by handing out a set of accolades. Some players will undoubtedly be proud to take home the hardware, others not so much.
Most Impressive Performance: Russell Wilson
2017 has been a year of underachievement from the quarterback position—I'm sure I didn't have to tell you that, as you've just spent the past week getting pounded by the Eli Manning debacle—but Sunday night's primetime matchup between the Eagles and Seahawks gave us two of this season's best. Alas, it was MVP favorite and American Sweetheart Carson Wentz who was bested by Russell Wilson, his nuclear legs, and his tiny fireball arms.
Even on a field stocked with some of the league's most talented players, Wilson continued to stand out. It's just always a good time watching him figure things out each game. He legitimately looks like someone who got randomly plucked from a local CrossFit house—only if that someone was good at literally everything a quarterback needed to be good at. If he can hold on to this momentum for just a few more weeks, I see no reason why these two signal-callers can't beat the hell out of each other just one more time in January.
Least Impressive Performance: Rob Gronkowski
Ladies and gentlemen, the dirtiest sports play of 2017!
this is disgusting from gronk pic.twitter.com/jd6x17lkiO
— Max Wildstein (@MaxWildstein) December 3, 2017
Let's go live to Special Rules Analyst Jeff Spicoli for his analysis:
Bill Belichick apologized directly to Sean McDermott for the play—an unruly hit that sent Tre'Davius White into concussion protocol—and for considerable measure. There's genuinely no excuse for laying a post-whistle cheap shot to the brain of an opposing player, and Gronk ought to see a multiple-game suspension coming his way soon. We simply haven't seen the likes of something so vile in sports since that hired hitman ran down Happy Gilmore at the Tour Championship in '96.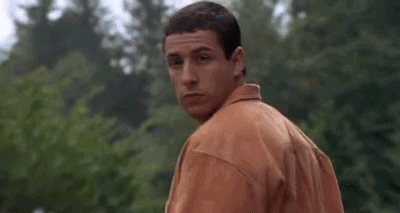 The Travis Kelce Award For Achievement in Flag-Tossing: Marcus Peters
The Chiefs are in the midst of a brutal 4-game skid, but that doesn't mean their outstanding efforts in showing up game officials are going unnoticed:
Marcus Peters my new favorite football player pic.twitter.com/3Kj8jNDNOB
— Rob Perez (@World_Wide_Wob) December 3, 2017
That's a fantastic flag-toss from Peters, who's clearly graduated with honors from the school of teammate Travis Kelce—who sparked a similarly magnificent cloth-fest last year wherein flags, towels, and hats were projected alike:
the Marcus Peters flag throw reminds me of a favorite NFL GIF: Three Men Compete To Throw The Most Random Object On Their Body pic.twitter.com/0hdpBWVmYB
— Rodger Sherman (@rodger_sherman) December 3, 2017
The Chiefs can choose either to sneak into the playoffs this year, or give us more worthy fun like this. Your move, Andy Reid.
Best End Zone Celebration: Jacksonville Jaguars
I need you to know that NFL celebrations are always a little better when they are exceptionally dumb. And I'm not talking about the kind of dumb that occurs when you watch something and go, "Eh, that was dumb." I'm talking about the kind of dumb that is just plain, hysterically dumb. Like the Jaguars acting out a free throw in which everyone on their pretend basketball court boxes out the shot, only to celebrate the successful attempt:
Nothin but Fournette #NFLCelebrations pic.twitter.com/8cMR7dKhnP
— The Checkdown (@thecheckdown) December 3, 2017
This should be an actual NBA rule. From now on, upon completion of a successful free throw attempt, both teams on the court must celebrate. It can be as flamboyant as a joyous roof-raise, or as simple as a polite golf clap. Let's just put this into effect as soon as posible, please.
Best Dildo: The One Bills Fans Just Threw Onto the Field… Again
Last year, a member of the notorious Bills Mafia emphatically threw a giant dildo onto the field during a Patriots-Bills home game. This year (as is tradition), a member of the notorious Bills Mafia decided to emphatically throw… wait for it… yes: another giant dildo onto the field during a Patriots-Bills home game.
DILDO ON THE FIELD IN BUFFALO ALERT pic.twitter.com/4ZromQJR0W
— Laces Out (@LacesOutShow) December 3, 2017
I honestly can't wait for the 2018 season, when a member of the notorious Bills Mafia decides to emphatically throw yet another giant dildo onto the field during a Patriots-Bills home game. See you next week.