Week 12 of the 2017 NFL season has officially settled in after a Sunday full of great throws, terrible announcing and outstanding celebration work. Each week, we'll take part in admiring these fine catches and blunders by handing out a set of accolades. Some players will undoubtedly be proud to take home the hardware, others not so much.
Most Impressive Performance: Julio Jones
Because I was home for Thanksgiving, I spent the majority of Sunday afternoon watching my beloved Bucs get hammered by the Falcons in a significant divisional matchup (normally I'd have to go to a bar to catch such mediocrity), and let me just tell you this: Julio Jones is very good at football. (I know.) Had it not been for the Atlanta wideout's absolute tear, I probably would have flipped the game off in the third. But one doesn't just flip the game off when Julio Jones is racking up 250+ yards and a couple tuddies on the day.
I came into the 2017 season thinking Mike Evans was mere inches behind Jones in the NFL pantheon of elite receivers. But now, I can see: I was dumb. When Matt Ryan has time to get him the ball in proper space, there is Julio Jones… and then probably Antonio Brown… and then everyone else.
Least Impressive Performance: Fox Commentator Chris Myers
Poor Delanie Walker went through all this trouble yesterday to score a perfectly fine touchdown, only to have his magnificent CPR celebration get totally butchered by announcer Chris Myers:
Do NOT let Chris Myers babysit your kids if this is how he burps a baby pic.twitter.com/0DjVbTbrPP
— CJ Fogler (@cjzero) November 26, 2017
My Lord. Does Chris Myers have children? And do those children have chilling childhood memories of being absolutely terrified each time they polished off a jar of Gerbers?
"Don't tell Dad you have gas. He will cave your entire fucking chest in." - Chris Myers's strangely profane baby, I think.
The Thunder Gun Express Award: Mohamed Sanu
Another observation from Sunday's Julio Jones festival in Atlanta: Mohamed Sanu has huge arms. They are so yolked, in fact, that I might even select him in a hypothetical trial-by-combat scenario against any other notable NFL player. In the first half of yesterday's game, he used one of those arms to launch an absolute bomb (and a pretty one at that) to Jones for a score.
Total fluke, right? Not so much. Turns out, Sanu is a perfect NFL quarterback: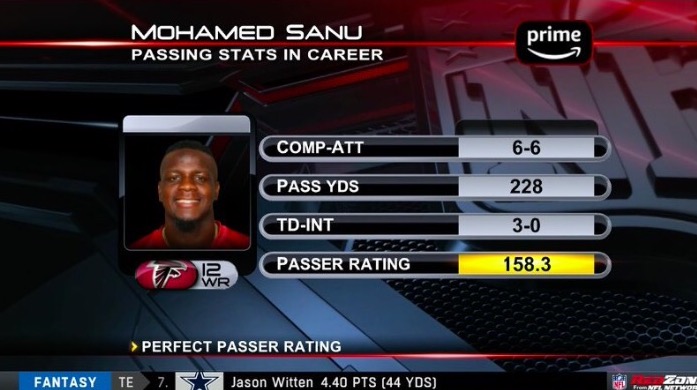 I unfortunately cannot say the same for Ryan Fitzpatrick.
The 2nd Annual Daenerys Targaryen Breaker of Chains Award: Aqib Talib
Speaking of fights! Boy, did we have a doozy of a throw-down between Michael Crabtree and Aqib Talib in Oakland yesterday. We've had our fair share of scraps in football this year, but this might be the first time I've seen two players legitimately square up on one another as soon as the first quarter was underway:
If you recall, these two have a history. And that history mainly just consists of Talib snatching Crabtree's chain off his neck every single time they play each other. Sunday's ejection-fest was no different, as once again, Talib got the last laugh.
Michael Crabtree to announce his retirement after getting his chain snatched by Aqib Talib for the 2nd year in a row pic.twitter.com/iY7WxR8N9p
— NFL Retweet (@NFLRT) November 26, 2017
Best End Zone Celebration: Atlanta Falcons
Walker's CPR gag was great—as was Philadelphia's entire damn defense doing the electric slide on the sideline. No, seriously. Look... it was great: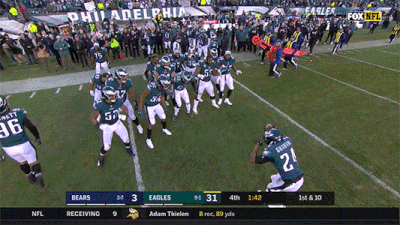 But that, my friends, is not an end zone celebration. That is a delightful sideline hype-fest (one I'm sure Philly fans cherished). The real winner of Sunday's action? That's right! We're headed back to the ATL!
RED LIGHT GREEN LIGHT#NFLCelebrations pic.twitter.com/gMpb54TU0Y
— The Checkdown (@thecheckdown) November 26, 2017
The reason this one is a standout: excitedly running towards a player who has just scored is a very normal, expected thing from a group of offensive teammates. So in a new era of forced, overdone touchdown acts, Julio Jones casually directing celebratory traffic was just perfect. Here's to hoping the Falcons play the Bucs every single Sunday next year. See you next week.