Last month,
James Mercer released a new Shins album
, called
Heartworms
.
This month, James Mercer released a new non-Shins app, called
Pasted
.
Needless to say, it's been a busy spring for James Mercer.
Fortunately, indie rock's native son (a title I just bestowed upon him) managed to carve out some time to chat with me about the app—an addicting tool for creating analog-looking digital collages—as well as the new Shins album, the joys of country music and that classic scene from
Garden State
.
Can you give us a quick genesis story for the app? How did it come about?
I saw an old-fashioned collage that was pretty faded and everything in a Hawaiian bar. Looking at it, I was thinking that it must've taken hours and hours to do. I just thought there must be an app that would do that for you. I tried to find one. There are a couple collage apps out there, but they just did grid layout type of stuff. I was really looking for this thing that would use facial recognition to cut out faces. So I called a buddy of mine, Zeke Howard [who cocreated the app, along with Ben Fogarty], and I just asked him if it was feasible. Could we do this, and would it be something that people would want? Or is it just me?
Apart from the facial recognition, what else sets Pasted apart from similar apps out there?
What's important about ours is that you can throw multiple images up at once and it'll automate the clipping for you. I also think there's something stylistically cool about the geometry of the cutouts.
Any insider tips on how to make the best use of it?
The thing I like doing is using the masking tool as a paintbrush—if you zip it around really fast, it sort of turns into polka dots, and I kind of use that to blend images together. That's my little trick.
I understand you designed the cover art for your two latest singles using the app. Was this something that you were doing in an analog way—for concert fliers, album art, etc.—in the early days of the Shins?
Oh, yeah. Totally. It was basically hours and hours at Kinko's with scissors and glue and stuff like that. I'm trying to give you the ability to do that on your phone, without going to Kinko's.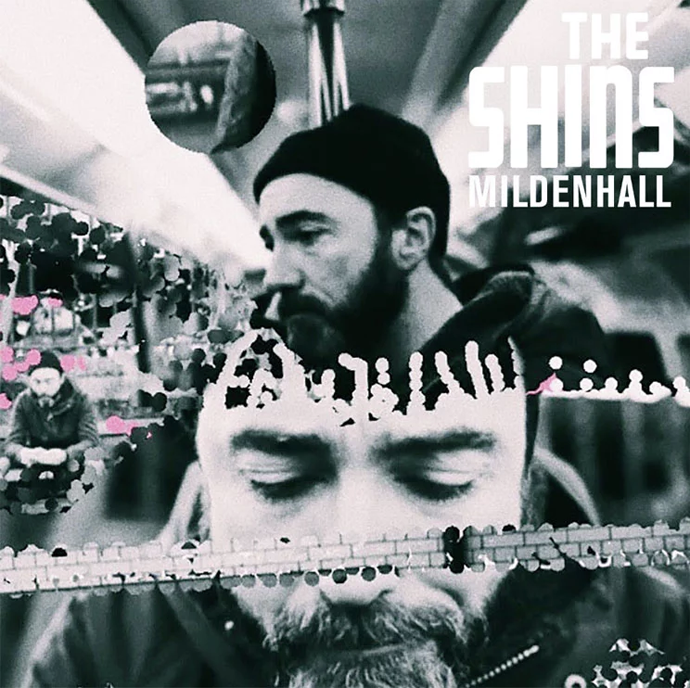 How involved have you been with your album art in general? Are there any you'd like to go back and change with the help of the app?
I designed the first Shins album cover for
Oh, Inverted World
, which has sort of a similar vibe to it to things that come out of Pasted. We kind of fell in love with those pastel backgrounds. I'm happy with them all.
You produced and wrote this new album all by yourself. What's the biggest difference between the Shins of Oh, Inverted World and the Shins of Heartworms?
I'm a better musician—I think. My lyrics are more sophisticated now, and I think I'm a stronger writer in that regard. I'd say I'm also a bit more free and open-minded now. When I was doing
Oh, Inverted World
, I was feeling angst against the machismo of rock music in the indie world at that time. It was sort of a rebellion against that. I wanted to learn to write classic pop sets. Now I'm kind of having a bit more fun with the aesthetics.
"Mildenhall," the third single off the new album, is probably the most country song you've ever written.
There have been a couple moments in the past where I've touched on it. "Gone for Good" [off
Chutes Too Narrow
] is kind of a country song. "For a Fool" on
Port of Morrow
is pretty country. But, yes, this one's seriously like Merle Haggard or something.
Is country music something you'd like to explore more in the future?
My dad is always telling me to do that. [
Ed. note: Mercer's dad was a country-western singer.
] He says I should do a covers record of old classic country songs. And I would not be afraid to do that. I love that old stuff.
Has working with Danger Mouse on Broken Bells changed the way you approach the Shins?
I think it has, but it's always hard to know how things influence you. I do notice that I concentrate more on the percussion side of things, because Brian [Burton, of Danger Mouse] put together really strong drum tracks and that was an integral part of the production.
Disregarding the fact that it could be awkward to jam out to your own song, which of your tracks would you be most happy to hear come on at a party?
I heard "The Rifle's Spiral" recently and was really pleased. It was sort of like I had forgotten that song. In a way it doesn't sound like a Shins song proper, it sounds to me like it's some other band's hit.
When was the last time you watched Garden State?
When I saw it in the theater. I remember shrinking down in the seat
when Natalie Portman said you should listen to the Shins
[
laughs
]. I didn't want anyone to see that I was there.