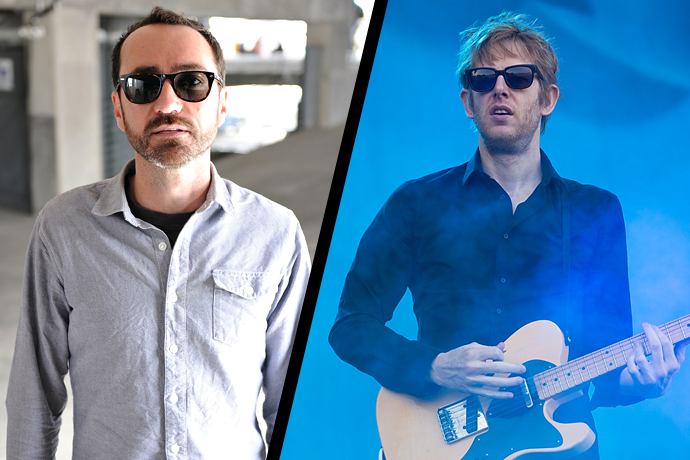 Few American bands have garnered more indie rock cred and mainstream success over the past two decades than Spoon and the Shins. They've had a profound impact on contemporary music, this particular writer and, in the case of the Shins, melancholic teenagers who obsessively watched
Garden State
.
Given that they both have new albums out this month—
Hot Thoughts
and
Heartworms
, respectively—I've decided, for no other reason, to wage the Great Spoon-Shins Debate of 2017.
Now, is it futile to subjectively compare two not dissimilar but fundamentally different bands? Totally.
Will it yield any definitive results? Probably not.
But am I going to do it anyway? Hell yes.
Bring on the categorical breakdowns (and see below for a supplemental playlist)...
Band Origin City
Spoon:
Austin, TX.
The Shins:
Albuquerque, NM.
Edge:
We'll give this one to Spoon. They started a band in Austin, in the '90s, before it felt like everyone else was starting a band in Austin, in the aughts.
Band Name
Spoon:
Spoon.
The Shins:
The Shins.
Edge:
I'll call this one a draw. Shins are pretty underrated body parts; spoons are pretty underrated eating utensils (even though they're, like,
way
fucking better than forks). Both are familiar and irreverent enough to sound cool coming out of your mouth at a
record store
house party.
Best Early-Career Album
Spoon:
Kill the Moonlight
(2002).
The Shins:
Oh, Inverted World
(2001).
Edge:
The Shins' first album is probably still their best. And with the exception of the Strokes'
Is This It
, it's also probably the most quintessential "indie rock" album of the early aughts.
Best Mid-Career Album
Spoon:
Ga Ga Ga Ga Ga
(2007).
The Shins:
Wincing the Night Away
(2007).
Edge:
There are a few more albums to choose from for Spoon here, so this one's a bit stacked against the Shins. But
Ga Ga Ga Ga Ga
launched Spoon into the mainstream, and gave us some classic Spoon hits, like the head-banging "Don't Make Me a Target," the folksy pop-ditty "The Underdog" and the simply great "You Got Yr. Cherry Bomb."
Best Late-Career Album
Spoon:
They Want My Soul
(2014).
The Shins:
Port of Morrow
(2012).
Edge:
This one's tough. These two made them both (though the Shins in particular) feel relevant, again, in a cultural landscape that has grown more and more averse to at least even somewhat traditional rock music. I'm going to give the Shins a slight edge—it's a cohesive, throttling album from start to finish.
Pitchfork Review for 2017 Album
Spoon:
Hot Thoughts got a 7.4
.
The Shins:
Heartworms got a 7.6
.
Edge:
How one lands on a 7.4 over a 7.5 or 7.6 using an ostensibly arbitrary scale for reviewing an album is beyond me. Then again, I'm debating myself about two rock bands with a tenuous relationship at best, and one of the categories was "Band Name." We'll let the Shins have this one.
Vocals
Spoon:
Britt Daniel, with his chomping pop-punk intonations.
The Shins:
James Mercer's voice, shouted into the void.
Edge:
Britt Daniel takes it for me here. His voice
feels
iconic, even if it's not.
Notable Side Project
Spoon:
Divine Fits, a collaboration between Daniel, Dan Boeckner (of Wolf Parade) and a few other cool people.
The Shins:
Broken Bells, James Mercer and Danger Mouse's redux of the Shins.
Edge:
There's an argument to be made for Broken Bells' self-titled debut being Mercer's best. I won't make that argument, because I'm not an asshole. But it's a damn good record—for "October" and "The Ghost Inside" alone—and it's pretty clear Danger Mouse's electro-pop sensibilities have been a positive influence on Mercer's music going forward. Divine Fits'
A Thing Called Divine Fits
, while a good listen, does not come close to eclipsing Daniel's work with Spoon.
Most Memorable Movie Moment
Spoon:
"The Way We Get By" in
Stranger Than Fiction
(and
The OC
).
The Shins:
"New Slang" in
Garden State
.
Edge:
"What are you listening to?"
"The Shins. You know 'em?"
"No."
"You gotta hear this one song, it'll change your life, I swear."
Garden State
has not aged well. It feels mawkish in places now, as a 25-year-old, where it used to feel poignant, as a 15-year-old. But that scene still gives me the willies.
Totally Subjective Concert Experience
Spoon:
2016 Eaux Claires Festival.
The Shins:
2012 Lollapalooza Chicago.
Edge:
Spoon, by a hair. The Shins are fun. Spoon fucking rocks.
Totally Subjective Formative High School Experience That Took Place in a Car
Spoon:
Smoking weed out of an apple in my parents' 2007 Nissan Pathfinder, listening to "The Way We Get By."
The Shins:
Trying to get laid in the same Nissan Pathfinder, listening to "New Slang."
Edge:
Spoon. Anyone who says they actually got some while listening to "New Slang" is a bona fide liar.
Final Tally
Spoon:
5.
The Shins:
5.
Conclusion:
Guess we're back where we started.