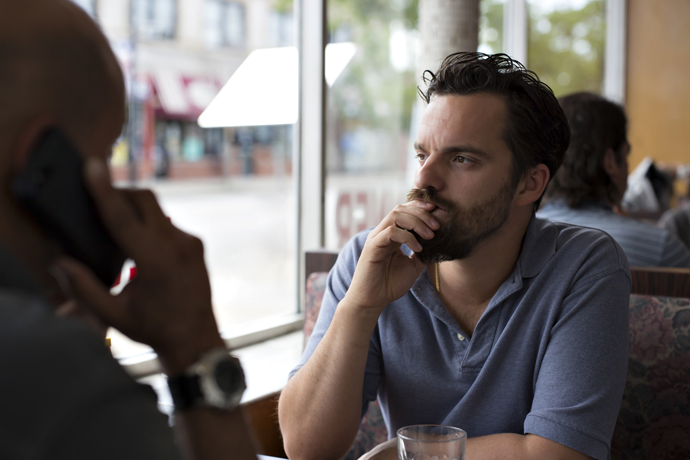 As a normal Netflix-watching person, you're already aware of the new Dave Chappelle and Louis C.K. comedy specials, the return of
The Get Down
and the forthcoming season of
Master of None
.
But today, we take a moment to appreciate the fact that Netflix has somehow become one of the best indie movie programmers out there right now. So let's move away from its higher-profile content to highlight the smaller films it's putting out into the universe.
Some involve murder.
All involve intrigue.
And here they come now...
I Don't Feel at Home in This World Anymore
Pedigree:
The first feature from actor/writer/whatever Macon Blair, it won the Grand Jury Prize, Dramatic, at this year's Sundance Film Festival.
The Appetite-Whetting Synopsis:
Melanie Lynskey and Elijah Wood get more than they bargain for when they team up to apprehend the small-time crook who burglarized Lynskey's home.
For Fans Of...:
Swiss Army Man
; the Coen brothers' oddball-ier work; throwing stars used outside of the context of martial arts films.
The Most Hated Woman in America
Pedigree:
Oscar-winner Melissa Leo, Josh Lucas and Adam Scott star, Elizabeth Banks produces, and Tommy O'Haver, the filmmaker behind what has to be the most underrated teen movie of all time,
Get Over It
, directs.
The Appetite-Whetting Synopsis:
It's the ripped-from-the-tabloids, stranger-than-fiction biopic of Madalyn Murray O'Hair, America's most rabble-rousing atheist, who was the victim of a kidnapping in the mid-'90s.
For Fans Of...:
The Master
; biopics of morally dubious public figures; Josh Lucas late-career comeback narratives.
The Discovery
Pedigree:
Jason Segel, Rooney Mara and Robert Redford—yes,
the
Robert Redford—are all in it. Also, the director, Charlie McDowell, most recently made the highly original rom-com
The One I Love
with Mark Duplass and Elisabeth Moss, and is currently working on an adaptation of Don DeLillo's
Zero K
for FX.
The Appetite-Whetting Synopsis:
A love story set amidst the scientific discovery of an afterlife.
For Fans Of...:
Ex Machina
; Charlie Kaufman–esque mind-fuck endings; the more serious
How I Met Your Mother
episodes during which Jason Segel broods and acts sad.
Win It All
Pedigree:
Prolific independent filmmaker/preeminent chronicler of super-normal urban Midwesterners Joe Swanberg directs Jake Johnson, who also cowrote the script. They last collaborated on the critical darling
Digging for Fire
. (Oh, read our interview with Swanberg about his Netflix series,
Easy
,
right here
.)
The Appetite-Whetting Synopsis:
A Chicago-based gambler addicted to losing must "win it all" to break the habit for good and become an actual, relationship-having adult.
For Fans Of...:
Rounders
and
Mississippi Grind
; other, equally pleasant Swanberg movies; watching Jake Johnson drink beer.
Five Came Back
Pedigree:
Steven Spielberg and Scott Rudin exec produced this documentary series, with Meryl Streep narrating. We'll go on...
The Appetite-Whetting Synopsis:
Five modern masters (Francis Ford Coppola, Lawrence Kasdan, Guillermo del Toro and more) tell the story of five legendary filmmakers (John Ford, Frank Capra, John Huston...) who were commissioned by the US government to document the American war effort during WWII.
For Fans Of...:
WWII historicism; behind-the-scenes DVD features; in-depth analyses of
It's a Wonderful Life
.