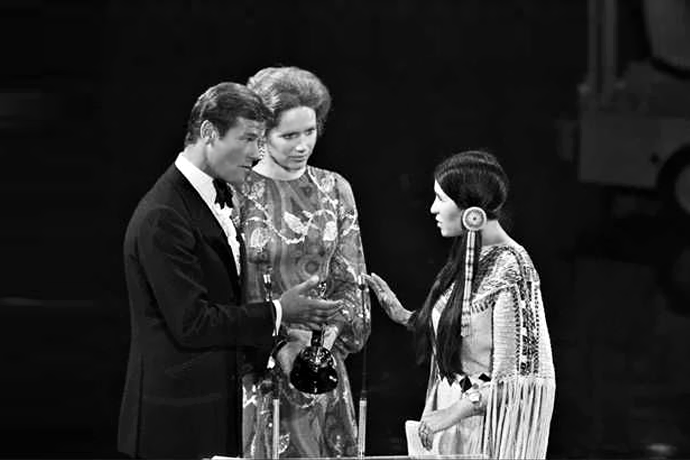 There are a lot of ways to show disdain for being recognized for your good work.

And just as many reasons.

Most recently, Bob Dylan took his trademark oblivious/indifferent approach to recognition by not showing up to accept his Nobel Prize in Literature (better than drunkenly identifying with Lee Harvey Oswald, I suppose).

Brando sent Native American activist Sacheen Littlefeather to collect his 1973 Best Actor Oscar for The Godfather, giving her a platform to speak about the Wounded Knee incident.

In 1997, Fiona Apple reminded us all, prophetically, perhaps, that "this world is bullshit," at that lauded arena for social consciousness, the MTV Video Music Awards.

In truth, there's no right or wrong way to blow off an award. The act is always going to be seen as disrespectful by some, rebellious and brave to others, and pointless to most. It all depends on the details. But during a stretch of American cultural tumult where the prevailing form of communication is to bludgeon with rhetoric—fake or otherwise—here's how I'd like to see someone do it:

X actress/actor/director/whatever is featured in one of the boxes showing the nominees for their categories as the presenter announces them, only they're not in their box. The box is empty. Where's X? Who knows? Publicists, ceremony guests and the public at large begin to panic, in varying degrees.

As it turns out, X has decided not to show, and further, not to tell anyone. Their rationale: you can't just show up to the ceremony and then refuse to walk up if your name is called. That reeks of attention-seeking. And this is about mystery. X's reasons are their own. And telling anyone their plans would have meant a lot of arguing with handlers and speculation and finding a last-minute tailor. So that's out.

Back at the Dolby Theatre, an uneasy Brie Larson announces X as the winner of their category—a prestigious one. Heads swivel, the crowd buzzes, but nothing's happening. Neither Jimmy Kimmel nor anyone at the Academy nor PricewaterhouseCoopers has a contingency. Awkwardness fills the theater. Brie, master performer that she is, recovers with a quick "Unfortunately, X couldn't make it here tonight, so here to accept the award on their behalf is [other principal in X's film]." Other principal does not speak English, and, unbeknownst to the stunned crowd, uses their time to speak about an obscure labor dispute in rural Norway, well into the orchestra's cues to exit stage right.

Meanwhile, X is taking a steam, to be followed by an hour-long session of Headspace. The world is ablaze. Life is imitating the most frightening kinds of art. But X is an entertainer, and has chosen total silence as their protest. In the days following the ceremony, members of the Academy and the older guard of the Hollywood elite express reserved disappointment at X's lack of blah blah and disrespect for bleepity bloop. X gives no response, having embarked on a monthlong vacation in the Maldives.

Word gets around Hollywood that X is being blacklisted by the major studios, but there's no denying the entire affair has given an alluring air of mystique to the—and this can't be denied—stellar and still promising career of X. Upon return from abroad, X finds a stack of scripts, all of which are of a quality that promises to just dare the Academy to snub X should they take on a leading role in any such project. The world never hears a word from X on their no-show, their name is still on a statue somewhere, they're forever listed on Wikipedia as having won that award, and, indeed, X is once again nominated the following year, having selected one in the pile of scripts and having given a performance so good, it would have been too brazenly petty not to have nominated it.

X shows up on the red carpet, and is relentlessly hounded about their no-show the previous year. Not having the words to accurately or fully describe the multitude of reasons X had for not appearing, X says, "What are you talking about? I was there," and never elaborates.

That I'd respect.