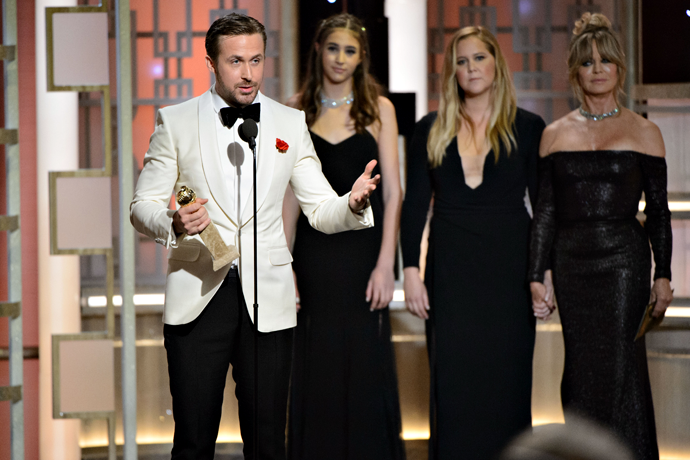 Something weird was going on last night at the Golden Globes.
It wasn't the shots of Tom Ford adjusting other people's outfits just before a cut to commercial.
It wasn't the selfies, the preening, the insecurities, the cleavage, the exaggerated laughs, the glassy champagne eyes, the Trump jokes sputtering out before Meryl Streep came along. That was all pretty expected.
These were the moments that were... not expected. And kind of badass.
Badassery being relative in the camera-rigged ballroom of the Beverly Hilton.
1.
The
Stranger Things
kids doing a rap interlude in the opening number. Rare occasion on which we're okay with kids being allowed.

2.
Questlove deciding he'd just go ahead and DJ from the stage for some reason. Julia Louis-Dreyfus tapping in.

3.
Michael Shannon and Billy Bob Thornton, among others, keeping their sunglasses on for the duration.

4.
Donald Glover's Gucci suit.

5.
Drew Barrymore showing up... in a commercial... hawking a diet plan. Oh. Sad. No, wait, she's talking about a diet plan that involves eating people she wants to eat, she's got blood on her face, and it's actually a trailer for a new Netflix show called Santa Clarita Diet. Well played.
6.
Aaron Taylor-Johnson taking his lapels, notably wide even in a roomful of wide lapels
(as we predicted)
, onstage for the Best Supporting Actor, Drama upset. Yes, those lapels were designed by his
Nocturnal Animals
director Tom Ford.
7.
"That's fuckin' awesome," is what Michael Shannon, in indoor sunglasses, seemed to be saying when Taylor-Johnson's name was announced.
8.
Gosling's red flower in the pocket of his white jacket. We like to imagine he called Jared Leto, bearer of last year's Oscar neckflower, to ask permission.
9.
Viola Davis, making it clear to the Hollywood Foreign Press Association that she would've preferred not to wait until her fifth nomination before a win. "I took all the pictures, went to the luncheon..."
10.
Cuba Gooding, Jr., wearing plaid, yelling at everyone to sit down. It was really loud in there.
11.
Ryan Reynolds just hanging out, laughing with everyone else at the fact that he was there as a nominee for
Deadpool.

12.
Kristen Wiig and Steve Carell taking all the time they needed, a masterclass in committing to a bit.
13.
Meryl Streep using her lifetime-achievement-award stage time to go after Trump, and then just kind of leaving the stage as soon as she was done, instead of talking about her career and then standing around to bask in the customary standing ovation.
14.
Brosnan adjusting his cufflinks after strutting out to the mic, ready to field headlines about whether he wants to do more Bond again.
15.
And lo, the nonexistent curtains parted, and recently absent elder statesman Brad Pitt was delivered unto us.

16.
Would anyone here dare to tell Isabelle Huppert she didn't belong on this list, just generally? No? Okay then.
17.
And the night's true triumph: pool full of Barbs.