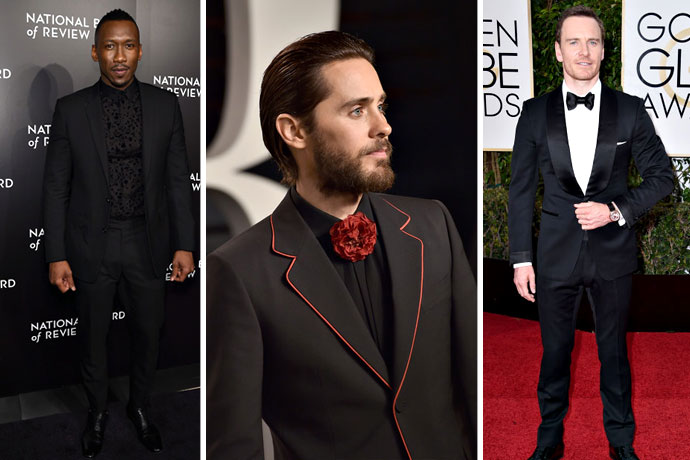 The Golden Globes are this weekend and we've got predictions.
Newcomers. Dark horses. Air ties.
No, this has nothing to do with who's going to actually win any awards. This is about something far more important: red-carpet style. And while tuxedos have become de rigueur, there's still room for a few stylish standouts to make their mark in the form of wide lapels, bow ties or lack thereof, and... whatever Jared Leto decides to wear.
So, without further ado, here are our predictions for what menswear trends you'll be seeing at Sunday night's Tuxedo Games.
Wide lapels.
The menswear pendulum has been swinging away from the extremely trim and slim-cut suiting to more louche cuts and wider lapels. Expect to see outsized peak lapels and even more pronounced shawl lapels.
Double-breasted jackets.
For the same reasons stated above.
Air ties.
The look is just as buttoned-up as your regular tux and bow tie, just without any cravaterie around the neck. It creates a clean, modern look that's been gaining favor on red carpets, and we're bound to see more of it at the Goldies.
Deeply saturated tuxes.
The standard black tux is never a wrong move, but a midnight blue or richly dark burgundy can be a standout if done right.
Going monochromatic.
Matching your dress shirt to your tux can be tricky, but it can look pretty slick when pulled off—and especially pairs well with the air tie.
Being Jared Leto.
He's always been one to make a statement—sometimes very on-trend and sometimes not—which is why we're thinking he'll follow up last year's flower tie by hopping onto the men's choker trend.
Well,
re-hopping on
, actually.