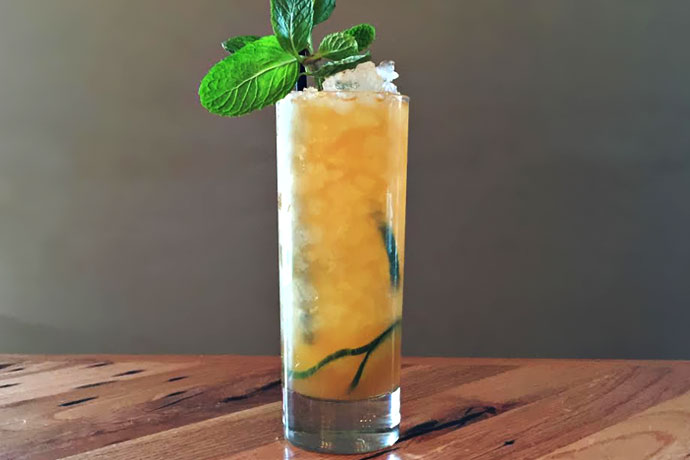 And now for a short lesson in US history.
Moonshine. People drank a lot of moonshine.
Thus concludes today's short lesson in US history.
So let's take what we've learned and mix it with fresh fruit and amaro like they do at
Barrel & Ashes
, a mighty Studio City barbecue joint jump-started by two Thomas Keller vets.
The restaurant's small bar slings a Pimm's Cup mutation they've dubbed the Kin's Cup, and its base is the unaged, Oregon-distilled, LA-based white whiskey called Kin. Don't let its light hue fool you—this thing holds up to ribs and brisket, so... there's your excuse to eat some ribs and brisket.
Kin's Cup
1 1/2 oz Kin White Whiskey
3/4 oz fresh lemon juice
1/2 oz fresh grapefruit juice
3/4 oz orange-and-mint-infused simple syrup*
1/2 oz sweeter-style amaro (China-China Amer or CioCiaro)
3 slices fresh cucumber
Lightly muddle cucumber in a mixing tin. Add remaining ingredients and crushed ice. Give it a shake. Liberate contents into a highball glass and garnish with a mint sprig.
*Orange-and-Mint-Infused Simple Syrup
1 part sugar
1 part water
1 whole orange peel
1 handful mint leaves
Using equal parts water and sugar, heat over medium heat until liquid turns totally clear. While waiting for syrup to cool completely, add orange peel and mint leaves to infuse.