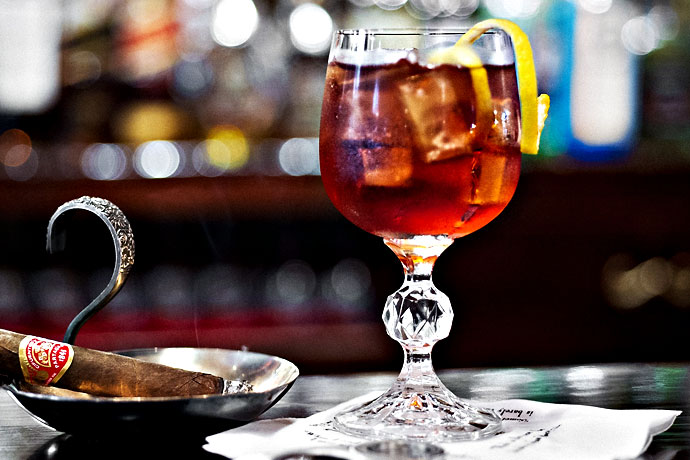 Uh-oh, the room's spinning.
You'd better put that drink down and head home.
That's scenario A.
Scenario B involves a spinning room, but you just keep sitting there and enjoying it because you're drinking at the Carousel Bar, that famed New Orleans watering hole that actually spins inside the Hotel Monteleone and not just inside your head.
And in that case, there's a good chance you're drinking a Vieux Carré. Named for the French Quarter (Vieux Carré means "old square" in French), this classic cocktail was invented at the Carousel Bar in the 1930s. Mixing two liquors, some vermouth and an herbal liqueur, it packs quite a punch. And it's right up there with the
Sazerac
as one of New Orleans's most significant contributions to your drinking habits.
Here's the recipe.
Vieux Carré
3/4 oz rye whiskey
3/4 oz cognac
3/4 oz sweet vermouth
1/4 oz Bénédictine
2 dashes Angostura bitters
2 dashes Peychaud's bitters
Stir all ingredients with ice until cold, then strain into a rocks glass over fresh ice. Garnish with a lemon peel.