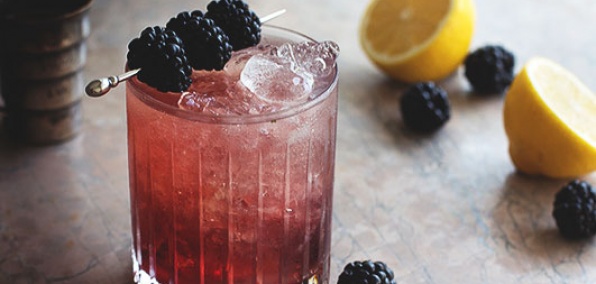 A good fruit salad.

That's one way to up your berry intake.

A good Bramble... that's another. And that one involves gin, so let's explore it further.

The Bramble was first created in the mid-1980s by a London barkeep named Dick Bradsell. Thanks, Mr. Bradsell. You gave us a reason to use that bottle of crème de mure that's been collecting dust all these years.

Crème de mure is blackberry liqueur, and it's what transforms a simple gin sour into the handsome drink you see here. Mix one of these up for any patio- or brunch-related gatherings that would be improved by a cocktail. Which, last we checked, is all of them.

The Bramble

2 oz gin
1 oz fresh lemon juice
.5 oz simple syrup
.5 oz crème de mure

Shake first three ingredients with ice. Strain into a rocks glass filled with crushed ice. Top with a float of crème de mure and garnish with a spear of fresh blackberries.