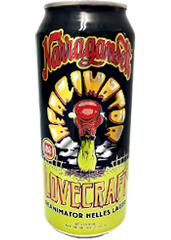 There's a new adaptation of H.P. Lovecraft's classic horror story "Herbert West—Reanimator," and this time it doesn't star Jeffrey Combs. It stars beer, because it's a beer. Reanimator Helles Lager, to be exact. And if you didn't have a seasonal lager picked out for Halloween yet, now you do.
It's the third installment in Narragansett's Lovecraft series, arriving on the heels of their Lovecraft Honey Ale and Innsmouth Olde Ale. Its recipe has the same base as 'Gansett's discontinued bock—pale and pilsner malts and Northern Brewer hops—which they then dry-hop with Czech Saaz, Hallertau and Citra hops. All of which makes for a malty, mildly hoppy lager with strong citrus flavors. And we promise to stop saying "hops" right... now.
If you've read the story, you'll realize that the beer is like one of Dr. West's patients: back from the dead, but not quite the same. And if you haven't read the story, well, you'll still appreciate drinking a good beer out of a tall can.