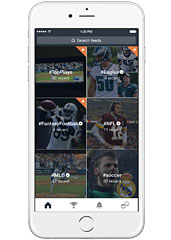 Ah, that glorious time of year when the moons of October baseball, early-season football and hockey converge.
It's like a Grantland-sponsored eclipse. It's beautiful.
But it needs this.
Introducing
Overtime
: a new app for fans to post about, debate and be unabashedly immersed in sports, available now for iPhone and iPad.
To clarify, we're talking
all
sports. Well, you are.
Your home screen is a feed of top hashtags (after a while, you'll choose favorites): #TopPlays, #Yankees, #YankeesSuck, #Fails, #BoldPredictions. If you're interested, click through for the most popular videos and articles posted by other fans. You can sort by newness, too. Another tab will show you the top 100 posts of the moment.
Then, up- or down-vote whatever. Leave notes and strong opinions, post GIFs of Simon Cowell clapping sarcastically. Exchange smart dialogue with other fellow minor league pétanque aficionados.
You can also add your own 10-second videos to any feed: be it a clip of Russell Westbrook dunking in slow motion, or Kyle Schwarber stumbling his way through a home run trot in regular motion.
No, better make that slow motion, too.