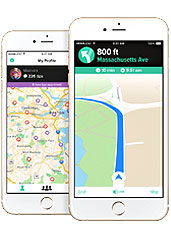 Dear Generic GPS Robot Lady,
We've had some good times. We have.
And no, I'll never forget that drive to Seattle, either.
But I've found someone else.
That was you talking about how you found
Mapkin
. It's a new Boston-based app that gives you turn-by-turn directions submitted by actual human beings, and it's available now for iPhone and iPad.
Now, an app by this same name existed two years ago. But all that did was let you record your own GPS instructions. This is a new incarnation featuring an entire network of crowdsourced directions that anyone can use and add to.
So, you'll download it. You'll provide a name that it will call you by. Your own name works. But so does "Night Eagle."
Then, you go for a drive. You get the normal navigation stuff, plus tips submitted by other local drivers. You might hear things like "Look out, the next turn's a tight one." Or "Take a right at the bakery." Or "There's pirate treasure under that hill." Probably not that last one.
And if you're in a particularly sharing mood, you can add tips later to any of their instructions, or input your own tips after your drive.
You don't have to use a British accent.