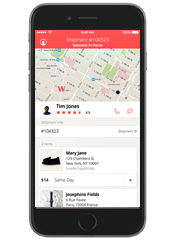 "You know what I could really go for today? Standing in line at the UPS Store for an hour and filling out one of those needlessly complicated packing slips."
In the brief time between you reading that previous paragraph and now, you've figured out that no one's ever said, thought or even joked those words before.
And so...
Wynd
, an app that means you don't really have to do stuff to send objects to people anymore, now operational in this very city and available for iPhone.
You should know how it works, right? Yes. They pick up your deliverables from you. They know where you are, because phones can tell people that these days. But since phones don't know how to read your mind (yet), you do input the address of the place you're sending said deliverables to.
Then, you take a photo of the stuff you're mailing. Enter some basic info about weight, dimensions—you know the drill—and if it's fragile. Choose a shipping option (standard, overnight, etc.). Again you know the drill. Soon, they pick up everything, pack it and send it. You track it and see when it's delivered.
Then you do that dusting-off-your-hands gesture.